Wow, what an exciting week and half it's been for the Olympics already! We've had tears of joy, tears of sadness, and tears of disgust from women all over the world
finding out Ryan Lochte pees in the pool.
We've had history made: the USA winning both the women's team gold and All-Around gold in gymnastics, a para-Olympian making it to the semi-finals of the 400 meters in track, an American man failing to make the 400 meter finals for the first time EVER, and a swimmer who has become the most decorated Olympian in history (Michael Phelps with 22 medals, just in case you've been living under a rock).
We've seen Mckayla Maroney, American gymnast and vaulter extraordinaire, fail to earn a gold medal in her event. You know, the gold medal that, next to the US basketball squad, was about as assured as a gold medal can get? We've seen Gabby Douglas fail to earn a single invidual event medal after taking the All-Around title...a first in the sport.
And speaking of gymnastics, we've seen some of the most ridiculous parents EVER this past week. Special gold medal awarded to the people sitting behind Aly Raisman's folks just for tolerating the crazy.
We've seen beach volleyball superstars Kerri Walsh-Jennings and Misty May-Treanor lost their first Olympic set in...oh, ever. But we've also seen them rally back to their superb form, setting up a gold-medal battle against fellow Americans April Ross and Jennifer Kessy. On the flip side, we've seen defending Olympic champs Todd Rogers and Phil Dalhausser fail to make it to the medal rounds.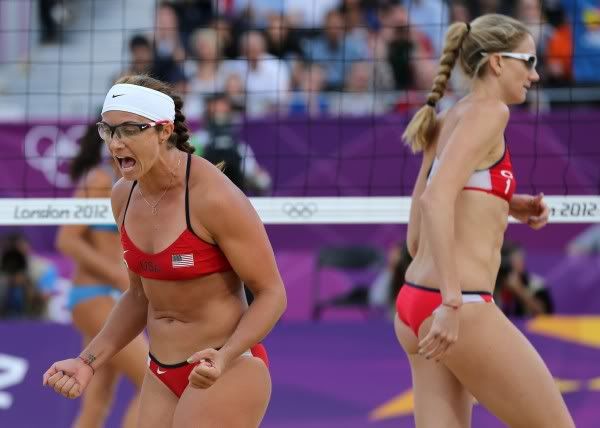 We've seen the Chinese continue to dominate in diving and the Jamaicans continue to be really, really fast.
We've seen countless bouts of judo, handball, and table tennis. LOL,
just kidding
...
no one watches that crap.
We've seen the Phelps/Lochte showdown get overshadowed by young swimming phenoms like Missy Franklin, Elizabeth Beisel and Katie Ledecky.
And yes, above it all, we've seen a man overcome a lackluster start to earn not his 19th, not his 20th, not his 21st, but his 22nd Olympic medal. And in a week filled with so many memorable moments, that's about as history changing as you can get.
So guys, what's been your most memorable Olympic moment so far? Or have you abandoned all hope for cable tv? Let me know!
Images provided by
guim.co.uk
,
salon
,
wallpapersup,
and
dailyguideghana.