Guys, I'm tired. Like in a "if I could pull a blanket over my head and sleep for two days straight, I totally would" kind of tired.
But, I can't do that. Plus, I promised I'd return to the blogosphere this week. And I must, MUST, keep my promises.
Well, except when I don't feel like it. But this isn't one of those times.
Anyhoo, I'm easing back into the program with some bits and pieces from around the sporting world. That way, none of us are too overwhelmed.
**************************************************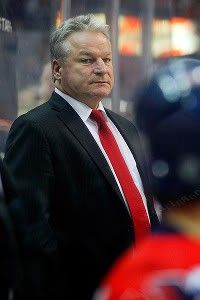 Dale Hunter, we hardly knew ye
Six short months
after he was successfully wooed by GM George McPhee, Washington Capitals head coach Dale Hunter has officially left the building. The former Caps star, who owns a junior hockey club in Canada and a 2000 acre farm, quit yesterday...just two days after the Caps were eliminated from the playoffs. No word yet on who McPhee is looking to as a replacement. I wonder if Bruce Boudreau is available.....
Kentucky Derby runner-up Bodemeister
will run this coming Saturday in the Preakness, the second leg of horse racing's Triple Crown. At first it was unsure if Bob Baffert's colt would again challenge winner I'll Have Another, but owner Ahmed Zayat was satisfied with the horse's condition coming out of the Derby. Given his near-miss at the wire, this sportsonista predicts a blanket of black-eyed susans might be in Bodemeister's future....
Last year Miami Heat's Chris Bosh
was a popular subject for twitter, facebook, and other social media outlets, whether people were talking about his play or his unusual looks. Now, the Heat
will have to do indefinitely without Bosh at the starting center position, after his MRI on Monday showed the Miami player has suffered an abdominal strain. Abdominal strains? Definitely not Like a Bosh.....
It's May, and the Baltimore Orioles
are still leading the AL East. With a half a game lead over division rivals Tampa Bay Rays, the Birds have seemed to f
ind some sort of (semi) consistent formula
for winning. Part of that formula has been solid pitching efforts from starters Jason Hammel and Wei-Yin Chen. Let's just hope the O's don't have to play the Rangers too often this season: the recent series against Texas yielded losses of 14-3, 10-3, and 7-3 (with a lone 6-5 win thrown in).
And finally....
With the Summer Olympics looming on the horizon
, the surprise event to watch might just be...archery. Thanks to Hollywood blockbuster characters like Katniss in
The Hunger Games
and Hawkeye from
The Avengers,
archery has suddenly become the cool thing to do. And Olympian hopefuls aren't immune to the phenomenon. Though he laments that perhaps archers in the movies aren't necessarily practicing good technique, gold-medal hopeful Brady Elison admits that archery shops across the country are selling out of equipment and turning people away. Who knew bows and arrows could be so sexy?
*********************************
Make sure to check out my awesome rainy day photo shoot tomorrow with Jacqueline from
Charming and Quaint Events
. See ya on the flip side!
Images provided by
espn
,
moviecultists,
and
coventrytelegraph.