Happy (a little early) Halloween guys!
This happens to be my all-time favorite holiday.
For those of you who say "it's not a holiday, sportsonista"......you're on my list, mmkay?
As I was trying to think of what to write for today's post, I realized that honestly...I'm just too excited for this weekend's festivities to come up with something creative on my own. Because let's be real...my creativity went into my fabulous costume.
And yes, I do always put together my own costumes...no pre-packaged nonsense for this girl!
Anyhoo....because I didn't want to leave you without on this lovely fall Friday, I thought I'd share some of the awesome articles/sites/memories that I've come across dealing with all things Halloween and Sports.
First up...you know how there's always those one or two uber fans that paint their faces and chests, don crazy wigs, and make spectating into a spectacle? Well, apparently it gets much, much worse at Halloween. Take a look at
this photo album
from the
Washington Post
highlighting some of these crazy peeps getups.

Well, that's just not right.
If that's not enough motivation to dress up for Halloween, how about this
Bleacher Report
on 30 clever sports-themed costume ideas? My favorite is definitely the Albert Haynesworth planking costume!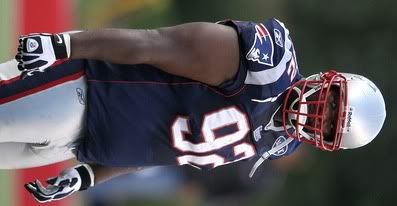 It's funny cause I'm lazy.
Then take a look at ESPN's
list of costumes
worn by Boston Sports figures....I'd probably pay to see (then) Bruins' defenseman Dennis Wideman as Radioactiveman from The Simpsons. Or his teletubby costume. Seriously, he may just have become my favorite sports player ever.
I can see it....
And finally, for my Mountaineer fans out there, what Halloween/sports post would be complete without the legendary Jack Fleming call for the 1984 WVU/Penn State game?
So light up your pumpkins, kids....cause this weekend may hold scary results, eerie plays, and maybe a nice treat or two for your favorite teams. Have fun, be safe, and I'll see ya in November!
Images provided by
washington.cbslocal
,
bleacherreport
,
supportunitedway
, and
0.tqn.