Have you ever read something that just makes you feel REALLY bad about yourself?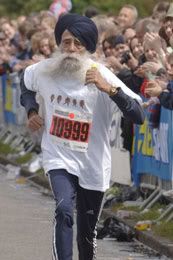 I'm sure you're a lovely person, but I hate you.
Well, when I read
this story
about Fauja Singh, that's exactly what happened.
For most people, an uplifting tale about a 100 year old man who became the oldest person to finish a marathon might be inspirational and aspirational.
But for me, it's just depressing and, if I'm being honest, a little aggrevating.
First, I'm happy just to make it to the gym a few times each week. Sure, I'll do some cardio, some abs, maybe try a new weight machine here or there, but it's nothing extremely strenuous.
Second, I don't run. Like ever. I'd have to be in serious danger to be running, and even then it's iffy.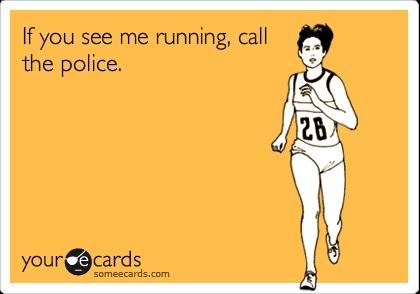 No....Seriously.
Apparently Mr. Singh completed his first major race, a 20 kilometer distance event, at the young age of 88. He said he needed something to do after his wife and son died.
Admirable and heart-warming? Sure. Crazy? You bet.
All kidding aside, I really DO admire the man. He's getting phone calls from Queen Elizabeth II on his birthday, was featured in the Adidas "Impossible is Nothing" campaign, and has a book written about him.
But really....running?
Fauja is forthright about his fame, exclaiming in
The Globe and Mail
interview, ""I cannot think of anything bad about running at all, there's only good in it, because not only am I healthy, but I get the recognition that inspires me and motivates me to carry on."
I see where he's coming from, and I praise his determination and spirit.
But since I basically hack up a lung anytime I attempt more than a
really
fast power walk, I think I'll just aim for....you know....being alive at 100.
We all have to have our goals, ya know?
******************************************************
So what do you think about Fauja Singh and his marathoning ways? Are you impressed enough to want to start running long distances? Or are you, like me, content to keep your life's pace at an easy walk?
Let me know!
Images provided by
sikhiwiki
and
someecards.