I don't know how many of you caught the plethora of college football games this weekend, but the headline wasn't Heisman hopefuls, National Championship contenders, or even conference re-alignment.
No, it was uniforms.
Specifically, Maryland uniforms.
Much has been written, said, and tweeted about the new unis worn by the Terps during Monday's game against Miami (even LeBron James got into the act by tweeting "Ewwww"). But don't fear, Turtles....you aren't the only offenders. Here's the fall 2011 look at the few do's, but mostly don'ts, of football fashion:
DO KEEP MODERN CLASSIC.
The
Oklahoma University
Nike Pro Combat uniforms have yet to debut this year, but they're a beauty. Although the missing "OU" symbol on the helmet threw me for a loop, I love the clean lines and simple white. I'd definitely
Sooner
see these than some other of the impending atrocities (you see what I did there? Sooner? I crack myself up).
DON'T GO TOO BRIGHT.
Yes,
Georgia Bulldogs
, I'm talking to you. None of us have to worry about the lights going out with those garish red unis you were sporting against Boise St. I just hope UGA didn't mistake any of you for a fire hydrant and let loose.
DO PAY ATTENTION TO DETAILS
. In the battle between Georgia and Boise St., the
Broncos
won both the game AND the fashion contest. The ombre effect of the undersleeves is pretty sweet, but the fact that their gloves make a Bronco head takes the cake. If only the
Blue Field
was as stylish.....
DON'T CARRY OVER REAL LIFE TO THE FOOTBALL FIELD
. Look, I'm all about the military. They work hard to keep us safe and secure. But
Army
, really? No need for fatigues and cammo on the grid iron. It's just bad.
DO BE INSPIRED BY SUPER HEROES
. I know I might be in the minority, but I simply j'adore the newest Oregon ensemble. The black top with shiny black feathers is reminiscent of the Dark Knight's crime fighting suit. Plus? The collar has KEVLAR. That's right, those suckers are bullet proof. Who knew Eugene was such a dangerous place to live???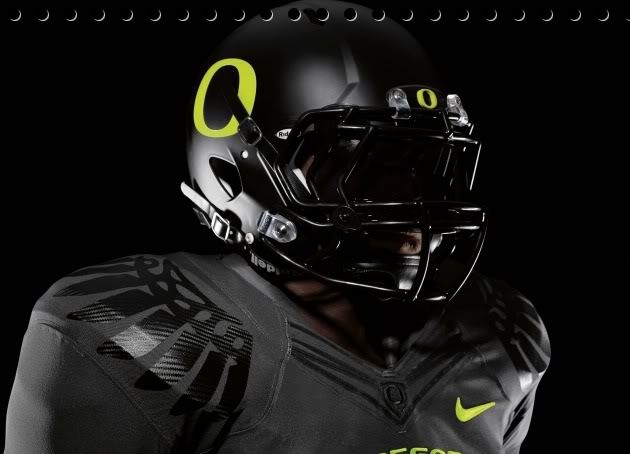 DON'T START PUSHING BAD FASHION ON HIGH SCHOOLERS
. I get that Nike has started to have competition in this whole "creative uniforms" market, so they need to keep things fresh and revolutionary, but don't punish the children! Look what happens when they branched out to Olive Branch High School......it's like a Lifetime special.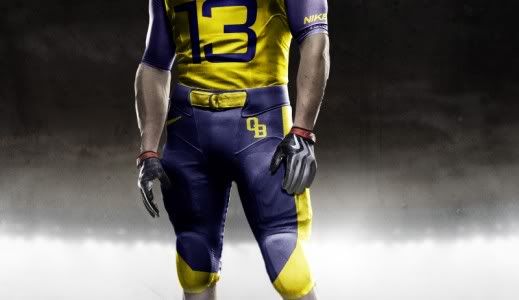 and finally,
DON'T DO ANYTHING THAT MARYLAND DID
. Seriously. Under Armour, if you're trying to compete with Nike, this is really not the way to do it. I thought the Turtle Shell patterned helmets donned during warm-ups were horrible enough. And then the team re-entered the playing field with what can only be described as a seizure waiting to happen. No disrespect to the Maryland flag, but OMG. Just....no.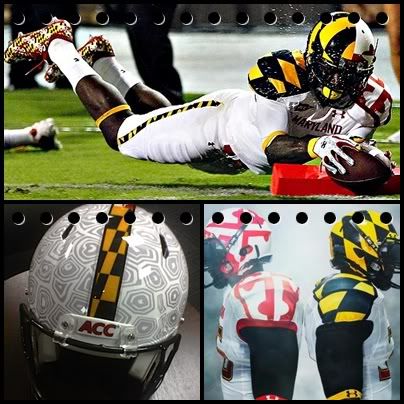 So my fashion-conscious sports fans....any thoughts? Did you hate or love the Maryland unis? Do you think there's any other team out there that deserves to be on the list? Let me know!!!!
Images provided by
friendsoftheprogram
,
d.yimg
,
solecollector
,
urbangrounds
,
cdn1.sbnation
,
craigjoe
,
mediabistro
,
espn.go
, and
larrybrownsports.