I've sat through plenty of inclement weather in my time as a sports fan. I've sat through games where the sun was so hot I thought I was going to incinerate. I've sat through temperatures so cold and snowy that I turned blue. I've sat through sleet, wind, and rain. But never have I ever been evacuated.
Until Sunday.
Apparently Mother Nature didn't get the memo that this weekend was the start of college football.
Horrible storms plagued several games, causing evacuations at Iowa/Tennessee Tech, Notre Dame/South Florida, Michigan/Western Michigan, and WVU/Marshall. And, in the case of the two latter games, Mother Nature ended up being the game decider.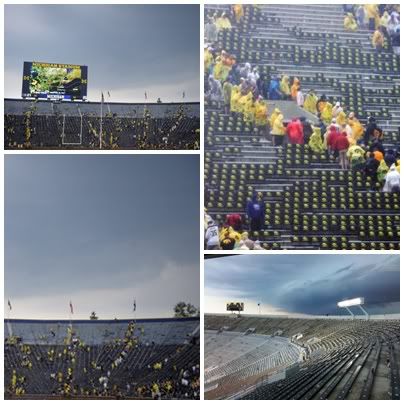 Fans evacuate stadiums all over the country
According to NCAA rules, if for some reason a game cannot be continued due to circumstances beyond the referees control, the schools playing have four options:
Resume the game later- This usually doesn't work out because with the new 11 game schedule, schools rarely have off-days at the same time. Plus, it seems a little unfair to fans who will probably not be able to attend once more.
Terminate the game with the determined final score
Forfeit of the game or
Declaration of a no-contest (as far as I can tell, the difference between 3-4 is that both teams must be present for a forfeit to occur. Otherwise it's considered a no-contest).
Because both the Michigan/Western Michigan and the WVU/Marshall game reached the conclusion of 3 quarters, officials from both schools were able to legally terminate the game with the score standing as is (34-13, WVU).
Clearly, I understand that the rules are in place for the safety of everyone involved. Let me assure you that being stuck on a staircase in a stadium just as a massive lightning strike and monsoon hits is not pleasant. Likewise, multiple delays are cause for concern for the players, who are suffering fatigue, hunger, and other issues that may harm them physically.
Waiting out the storm delays included seeking shelter in the Caperton Practice Facility and huddling under a beam in the concourse.
It seems unfair, though, that the losing team has to give up a whole quarter in order to come back. If it had been last year's WVU/Marshall game, for instance, WVU would have ended up with a loss. Instead, the Mountaineers rallied late in the fourth and won in OT.
One thing I can say is this: Real fans, no matter what the weather, don't leave until the game is officially called. This Sports-O-Nista stayed until the bitter end, experiencing a wave around the stadium and the traditional singing of Country Roads.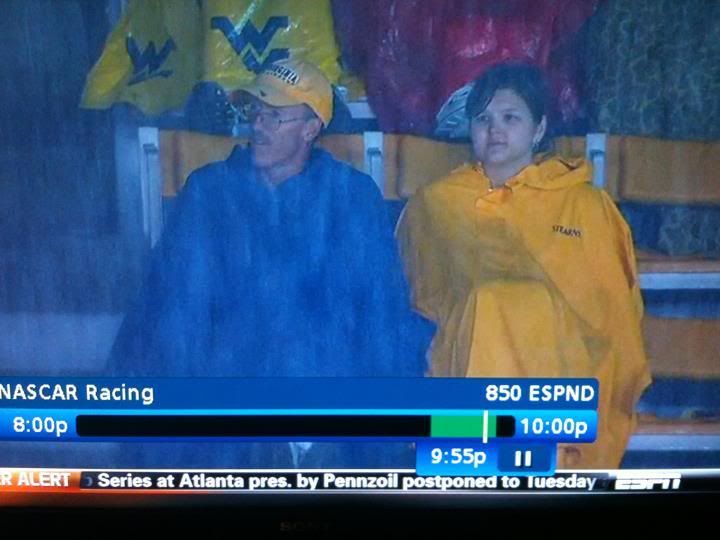 Thank you ESPN for catching me in my wet, poncho-clad glory.
So sports fans, the next time Mother Nature decides to call a game, remember: don't run to your cars, don't gripe about the weather. Stick it out. You might just end up on Sports Center the next day.
***************************************************************************
Have any of you experienced an evacuation at a sporting event? What's the worst weather you can remember sitting through? Do you think it's fair to call a game after three quarters? Hit me up and let me know!
mages provided by
mlive
,
articles.wsbt
,
thegazette
, Tessa Lind, and the Sports-O-Nista.