Do you remember
that Staples commercial
where the father is super excited because the kids are going back to school, and accentuating his joy we hear Andy Williams crooning "Most Wonderful Time of the Year" in the background?
Yeah, the start of college football is kinda like that for me.
No, there's no joy ride on a shopping cart, or a song and dance involved.
Ok, so we do tend to throw a football around that says "Let's Go Mountaineers" and then plays the fight song, to which we then dance around while assuming the Heisman pose. But that's totally acceptable, right? And this has been on the kitchen chalkboard in the 'rents homestead for the last two weeks: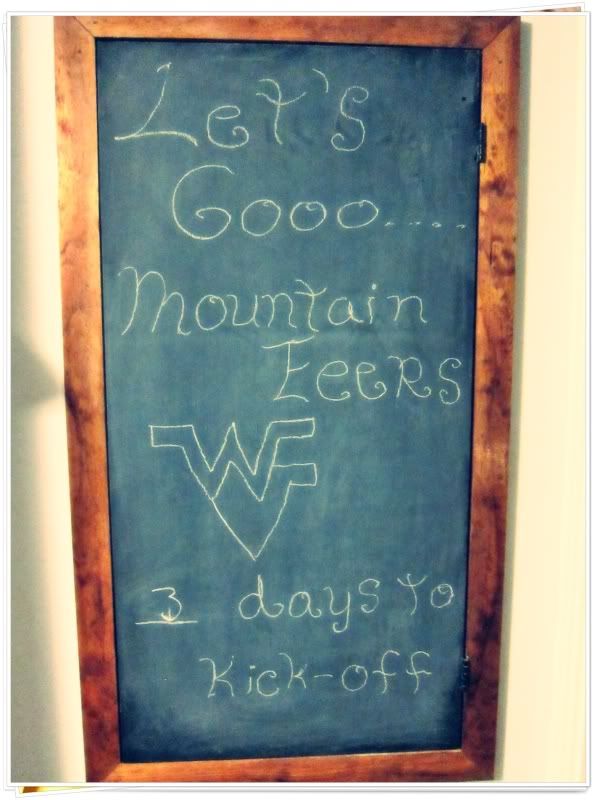 Yes, it really IS the most wonderful time of the year.
You know, after the Kentucky Derby, which I already said was the most wonderful time of the year. I'm confusing like that.
The beginning of college football is the beginning of possibilities. Sure, there's a preseason poll that tells you who looks good on paper, but we all know that can change in a heartbeat.
Remember the 2007-08 season which began week 1 with the first ever I-AA victory (Appalachian St) over a ranked team (#5 Michigan). This started a continuous line of upsets like unranked South Carolina over #11 Georgia in week 2, #3 Oklahoma and #4 Florida St. losing to unranked opponents in week five, USC being beat in week six by a Stanford team that would finish below .500, any team ranked #2 losing every other week, and yes, even my WVU Mountaineers losing an almost guaranteed lock in the National Championship to a 4-7 Pittsburgh Panthers team. At home.
And that was just one season.
I don't even have to like a team to happily sit and watch them play. For instance, last night's UNLV vs. Wisconsin game? Couldn't care less about either! But was it on my tv? You betcha.
The beginning of college football is also about comraderie. No one's lost yet, so everyone's still happy.
"You going to the game on Saturday???"
"Sure am! Got my ticket and my hotel room and my cornhole board all set!"
Come the first week of....say....November, the conversation might sound a little more like this:
"Hey, you going to the game on Saturday? I'm trying to sell my tickets. It's going to be freezing, and I don't want to go watch us suck."
Everyone wants to know the scoop: are we going to be good? Are we going to win the conference? Are we going to a BCS game? Will we win a National Title?
There's a buzz in the air, and no, I'm not talking about the sound of those annoying yellow jackets starting to come out of hiding.
Let us also not forget about the return of College Game Day, a weekly Forde Yard Dash column (my fav), College Football Live, the ramblings of Lou Holtz, the pretty faces of Jesse Palmer and Kirk Herbstreit (or Erin Andrews, if you're a dude), and the declaration that "this is the year Notre Dame gets back to its glory".
OK, I don't really look forward to that last one, but tradition makes me happy!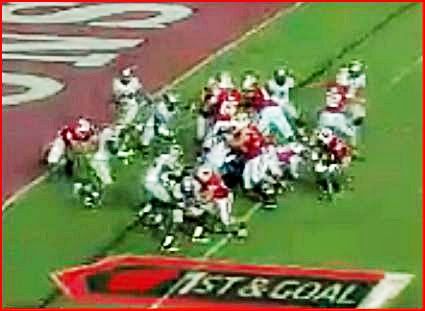 Wisconsin and UNLV get the first Thursday night ESPN game of the 2011 season
So, College Football fans everywhere....now that the scandalous off-season is over, are you as excited as I am to see some action taking place on the field? Who will win? Who will lose? Do you think we'll ever have a season like 2007-08 again? Hit me up and let me know!!!!
Images provided by the Sports-O-Nista.