It's no secret that I'm having a long-time love affair with horse racing. Ours is an epic and everlasting relationship. In fact, we pull a Heidi Klum/Seal and
renew our vows every first Saturday in May
.
With all famous love stories, however, there are powers threatening to come between us. Those of you that follow the sport are aware that for years now, financial woes have taken its toll on Thoroughbred racing. Tracks of all sizes are feeling the heat, including the famous Arlington Park in Chicago and the Aqueduct in New York (home to the Belmont, the third leg of the Triple Crown).
Enter the Racino.
The Racino is a combination track/casino that relies on slot machines and table games to bolster track revenue. Unfortunately, as
ESPN's Bill Finley surmised
, the racing part is the "neglected, red-headed step child" that track goers will be lucky to even find through the whistles and bells of the casino.
As someone who lives close to a "racino", I wholeheartedly concur that it takes eons to figure out where the track entrance even is. Or, you know, a bathroom.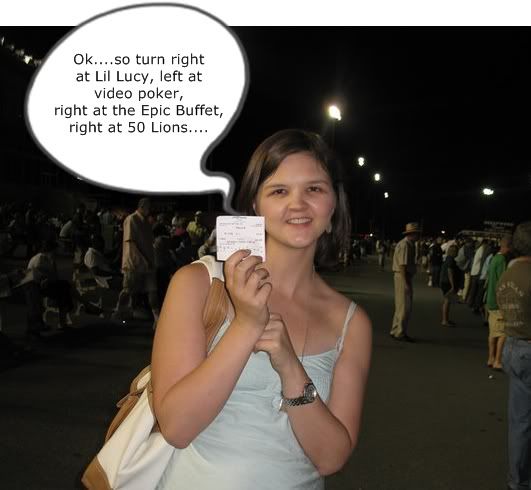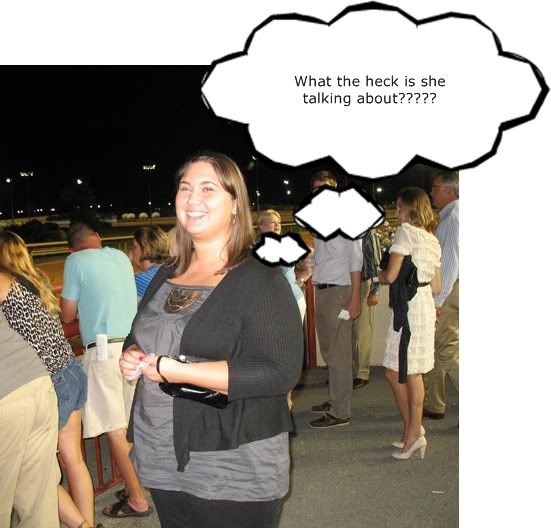 The thing is, a lot of tracks don't want to consider adding slot machines or other forms of gambling (or the state in which they're located are a bunch of fuddy duddies and refuse to legalize slots). So if your name isn't Churchill Downs, chances are your track is pretty much in the muck and mire (or closed).
So what's the cure for the tragedy befalling horse racing in the US? Well....some tracks, like Canterbury park in Minnesota, are holding
extreme races
in between their regular thoroughbred fare. And by extreme racing, I mean ostriches (ostrii?) and camels.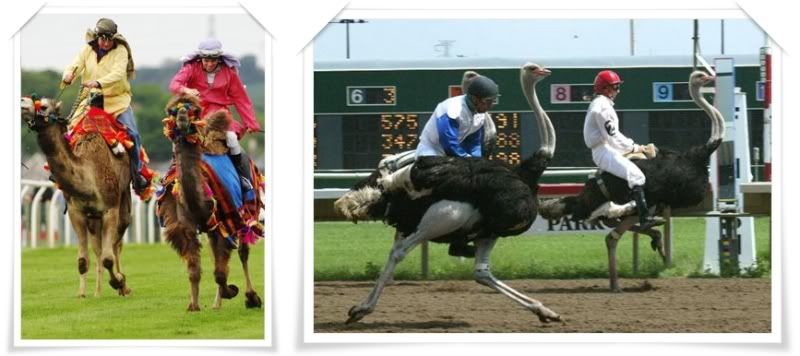 Best Thing Ever?

Which, no lie, makes me think horse racing is just turning into a live action version of Swiss Family Robinson. On land.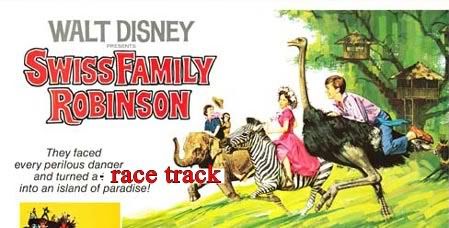 Am I right?
All jokes aside (and there are many, many, MANY), the reasoning behind these extreme races is the hope that the spectacle that caused us to fall in love with horse racing will bring back some old faithfuls, as well as introduce a whole new generation to the sport.
Perhaps Finley had it right when he said "racing isn't fun anymore". Maybe a few camels and ostriches will help save one of America's oldest and most dear spectating events.
So, racing fans....do you, like I, really want to go see an ostrich race? Do you think the outcome looks bleak for American racetracks? Will racino become a new part of your vocabulary? Let me know!
Images provided by sportsonista,
images.publicradio
,
hybridredneck
, and
jimhillmedia.