As the year dwindles down, so too ends my Friday Fun Bowl series. This probably excites you, the reader, for one of two reasons:
You have genuinely enjoyed reading about my past bowl game escapades and are anxious to see what I've saved for the grand finale or
You are sick of me writing about college football, bowl games, and WVU.
Regardless of which category you fall under (or maybe you're just indecisive and fall under both), today's post should bring a smile to your face.
So let's get to it, shall we? This is the one where WVU took on the
BIG, BAD S.E.C.....
and won.
********************************************************************
In fall of 2005, the world was a very busy place. The Mars Reconnaissance Orbiter was launched, Saddam Hussein went on trial, and a little storm called Katrina hit the U.S.'s Gulf Coast.
In small-town U.S.A. Morgantown, big changes were happening as well. Quarterback Rasheed Marshall and running back K.J. Harris had graduated, leaving a young offense behind. The new "Big East" was about to kick off, as the conference welcomed in Cincinnati, South Florida, and Louisville to replace the departed Miami, Boston College and Virginia Tech.
I, myself, had just gone back to graduate school to earn a M.S. in Sport Management. Thus, I found myself right in the midst of the football action.
After a few easy games, week 5 rolled around. #3 Virginia Tech, led by Marcus Vick, came into town for the last time. The Hokies won 34-17. Mountaineer fans all over the country cursed and ranted as the Black Diamond Trophy went back to Blacksburg, possibly for good.
But conference play was getting ready to go into full swing. A true freshman running back by the name of Steve Slaton began to pile on yards. Then Louisville came into town.
With one quarter left, the Mounties found themselves facing a dismal 24-7 deficit. To make matters worse, QB Adam Bednarik left the game with a leg injury. Rodriguez had no choice but to put in redshirt freshman Pat White.
Yes, that Pat White.
Long story short....WVU came back and won that game in triple OT and finished out the season with a perfect conference record, earning them a spot in the Sugar Bowl.
Now normally, we would have been headed to New Orleans. But as fate would have it, Katrina's devastation pushed the bowl game to another venue....Atlanta, GA.
Which, looking back, might have been a good thing. Had rowdy Mountaineer fans come into town, the Big Easy might have never recovered.
Anyhoo, WVU was matched up against the S.E.C. winner Georgia Bulldogs, in what was virtually a home game for them. The Mountaineers were dead in the water before the game even kicked off.
**************************************************
But off to Georgia we went! Bulldog fans greeted us northerners with scornful smiles and a whole round of "Bless Your Hearts". Not a good sign.
As night fell, we took our seats at the Georgia Dome. While most people we knew were up in the nosebleed sections, we somehow scored tix in the end zone, about twenty rows up from the field. Perfect for me to find what I had anxiously been waiting for....an UGA sighting.
What can I say? Bulldogs in sweaters make me happy.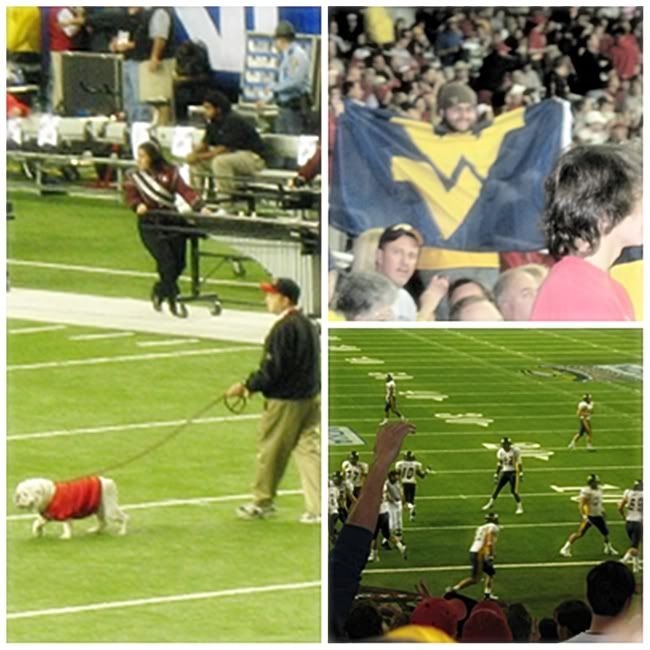 And then WVU scored a touchdown....and another....and another....and another. Before any of us could blink, it was 28-0. A few irate Georgia fans in front of us
cursed like a sailor
waxed poetic, exclaiming "WHEN THE HELL ARE THEY GOING TO FIGURE THAT OUT????!?!?!?!?!"
Bless their hearts.
Suddenly, the
BIG, BAD S.E.C.
wasn't quite so scary.
To their credit, the Bulldogs had a comeback in them. With 1:26 seconds left, WVU's lead had been cut to 38-35. The Mountaineers were facing a 4th and 6, and all of us were nervous. We knew that if Georgia got the ball back, they would almost certainly score the tie-ing or go-ahead points.
But, as Lee Corso would say, Not So Fast my friends.
In a move of either sheer brilliance or stupid luck, Rodriguez called in a fake punt to kicker Phil Brady. Brady ran for the first down and sealed the victory.
Yeah, that was kind of exciting.
Steve Slaton was named game MVP, setting a Sugar Bowl record of 204 yards and 3 touchdowns. This was the first in a line of four bowl victories for QB Pat White, a record only equaled by Tim Tebow. And ESPN named the game as #6 on the list of best bowl games in this BCS era.
All in all, the 2006 Sugar Bowl, and our experience in Atlanta, was pretty darn sweet.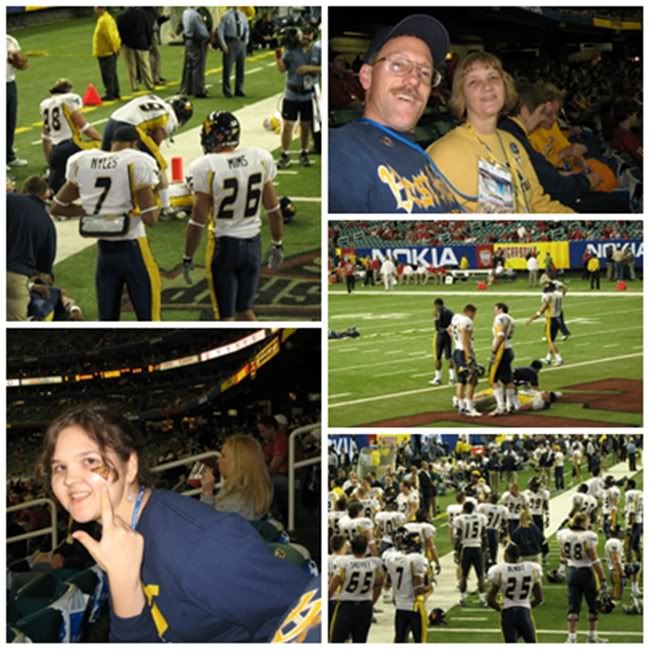 So friends, what did you think about my bowl advent series? Glad to read it or glad it's over? Let me know!
Oh, and....Happy New Year!!!!!!!!
Images provided by the Sports-O-Nista.