Bowl season is officially upon us.
Every year at this time, hundreds of thousands of crazed college football fans are making their travel plans to go support their favorite team in whatever randomly named bowl game in which the school has accepted to play.
Or, as some of my friends are doing (ahem, Justin M.), going to just a random game because it's "closest".
The past few days in my own life have been filled with the purchase of tickets, the reserving of hotel rooms, the convincing of my mom to fly, the scrounging and purchasing of plane tickets, and the renting of a car. All so we can attend the Orange Bowl in Miami, FL on January 4th.
These might seem like excessive costs, especially around the holidays, but there's something you need to realize: tradition, especially when it comes to bowl games, knows no limitations in my family.
In fact, since the year 2000, we've attended every bowl game that WVU has played in, barring the 2008 Fiesta Bowl. That's 11 straight years of travelling to Charlotte, Jacksonville, Atlanta, Orlando, and now Miami.
Truthfully, a lot of them run together. But the one that still stands out to me is my first bowl game. It's a story I'd like to share with you now.
****************************************************************************
It was the year 2000 (cue Conan O'Brien music here).
Head coach and Hall of Famer Don Nehlen had just finished up his last regular season. Our family had just finished up their 2nd year as season ticket holders. With a record of 6-5, the Mountaineers were headed to the Music City Bowl in Nashville, TN to take on a 7-4 Ole Miss team.
It was decided: Coach Nehlen's last game would be our first bowl experience.
So off to Nashville we went. Although not our first trip to the Music City, Nashville was nevertheless still as charming and "small-town" quaint as I remembered. Scores of Mountaineer fans decked in blue and gold crowded the city streets, filling restaurants and pubs with raucous laughter and renditions of Let's Goooooooo.....Mountaineers!
On game day, we joined in with the masses to "fan walk" across the river to the relatively new Titan's Stadium. Despite being in the south, the atmosphere was still chilly and crisp: perfect football weather.
W..V..U
Finally, it was game time. WVU Quarterback Brad Lewis came out on fire. The Mountaineers seemed to throw touchdown after touchdown. In fact, it only took them 18 plays to score 5 times in the first half. It was exciting. It was crazy. It was a performance that WVU fans hadn't seen in a long, long time.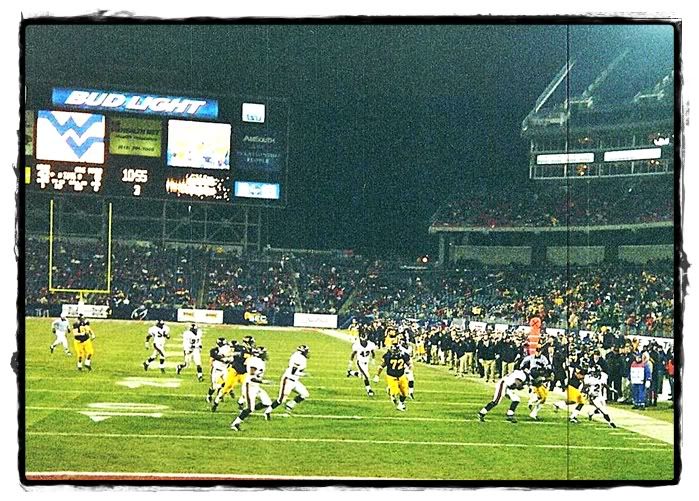 Getting Ready to Score...Again
Up 49-16 headed into the 4th quarter, we were all pretty confidant it was going to be a blow out. With seemingly no hope, Ole Miss coach David Cutcliffe decided to put in a freshman quarterback by the name of....wait for it....Eli Manning.
Yes, that Eli Manning.
With temperatures now in the 20s, and winds gusting up to 15 mph, Manning came in and lit up the frozen Nashville field. What Lewis had done in the first half, Manning was now doing late in the 2nd.
In fact, the 19 year old threw for three touchdowns, cutting the deficit to 11 points. Now 49-38, we were starting to get a little worried. Mountaineer fans had been down this road many a time before. In fact, under Nehlen's reign, the Mounties had had 8 straight bowl losses.
Which, fyi, is an unofficial bowl record in futility.
Fortunately, DB Lance Frazier intercepted Manning with 3 minutes to go, sealing the victory.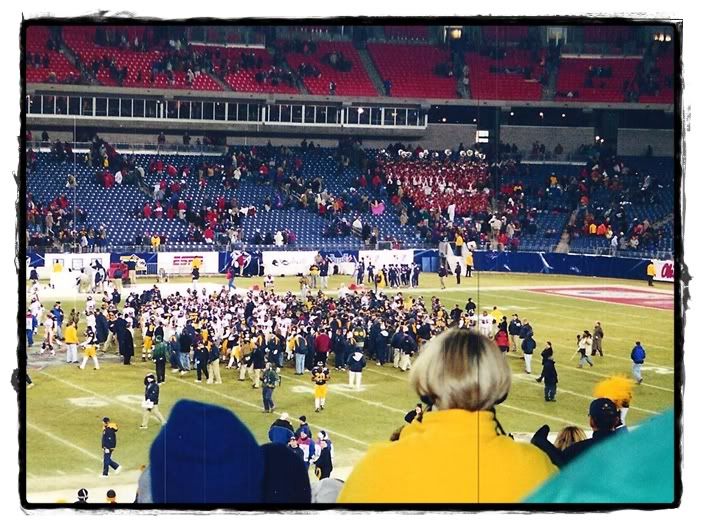 Victory Celebration on the Field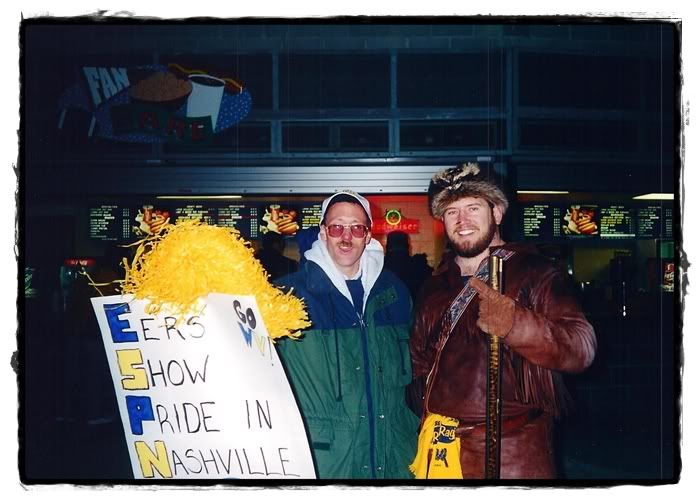 Awesome Sign I Made....and my friend Scott Moore, who was the Mountaineer at the time
With chants of "Nehlen, Nehlen", Don, the team, and the crowd celebrated a bowl victory that was a long time in the making.
I'd like to think that my debut in the bowl world had a little something to do with it.
****************************************************************
So fans, do you have any memorable bowl stories you'd like to share? I'm contemplating counting down some more of my bowl experiences in the coming Fridays, so be thinking of ways to top them. Cause let me tell you, it only gets more interesting from here on out!
Images provided by The Sports-O-Nista.