No, I'm not going to wax poetic about
Katy Perry's latest hit
,
although I do j'adore it immensely.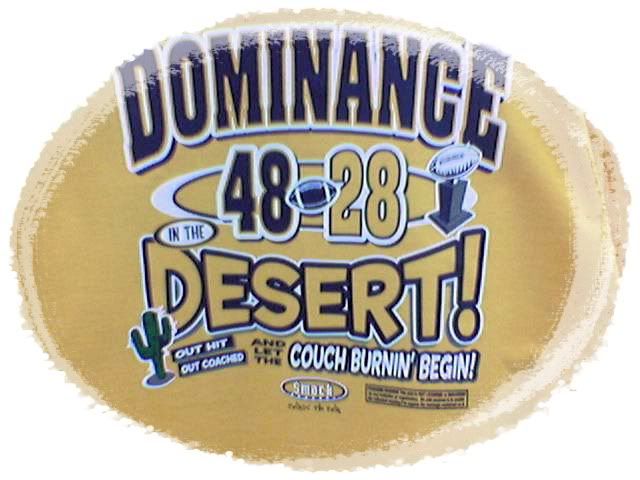 It's the third Friday in my Friday Fun Bowl Post, which I've now mentally determined is my Bowl Advent Season. Four glorious weeks of exploring my past game experiences, culminating in my trip to Miami for the Orange Bowl.
I know, it's exciting. I'm not lighting candles, but I won't hate it if you decide to do so while reading these posts.
Before I go off on too much of a weird tangent, however, let's harken back to 2008, shall we?
This is the game that could have been, but wasn't.
*****************************************************
It was December 1, 2007. WVU was ranked 2nd in the BCS Poll, and poised to land themselves a spot in the BCS Championship game with a very real chance at a National Championship title.
The Pittsburgh Panthers were limping into the 100th Backyard Brawl with a 4-7 record. As a 28 point favorite, WVU was almost assured a victory.
In fact, we were so certain we would be making a trip to New Orleans, we spent the previous day looking at tickets prices ($1000+) and hotels. I begged my parents to let me pull the trigger, but my mom said we should hold off. You know, just in case.
Yes, more prophetic words have never been uttered.
Because I can't stomach to relive the gruesome details, let me summarize....we didn't win. And two short weeks later, head coach Rich Rodriguez announced he was leaving for Michigan, thus becoming Public Enemy #1.
Ergo, we had a team that had just blown maybe their only shot at a National Title and no head coach. It was an atmosphere of dread, of betrayal, of hurt, and of anguish.
WVU was matched up against a strong Oklahoma team for the Fiesta Bowl. Remember two weeks ago when I said
my mom hated to fly
? Well, Arizona is even farther away than Miami.
Now we had an atmsophere of dread, despair, and anguish, a team with no coach, and a long ass trip to the southwest.
It just wasn't looking good.
But we're all about democracy in our family, so we debated. My stepdad wanted to go. My mother wanted to stay home, convinced she'd be suffering an airplane trip just to watch us lose. Ultimately, I was the deciding factor. Because I was in a job where January vacations were taboo, I reluctantly voted to stay.
So home we stayed.
On game day, I was horribly sick with a terrible cold....fitting for the gray mood that still seemed to hover. Curled up in bed, I watched in solitary confinement as WVU took the field. On the other side of the house, my parents did the same.
Suddenly, as if the Arizona sun burned them away, the clouds lifted.
Mostly because this started to happen:
See ya in the endzone suckers.
The fans, the Oklahoma Sooner players, Bob Stoops, and the 98% of the country who thought Oklahoma would have a cakewalk were stunned.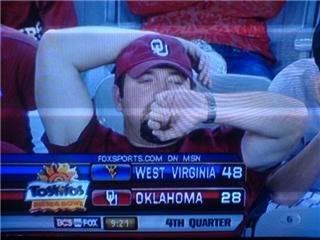 Sad.

Meanwhile, back at the ranch, I called the houseline from my cell phone to hoarsely scream whenever something good happened. Yes, that's weird. No, I don't care.
As the clock wound down, and the score stood at 48-28, my mom came over to my room. Sitting on my bed, with tears streaming down her face, she hugged me and said, "I'm just so proud of them. Nobody thought they could do it, and they did."
A
tad
dramatic, but I understood the sentiment.
And then
Owen Schmitt cried too
, Pat White was named MVP, and this guy somehow became head coach: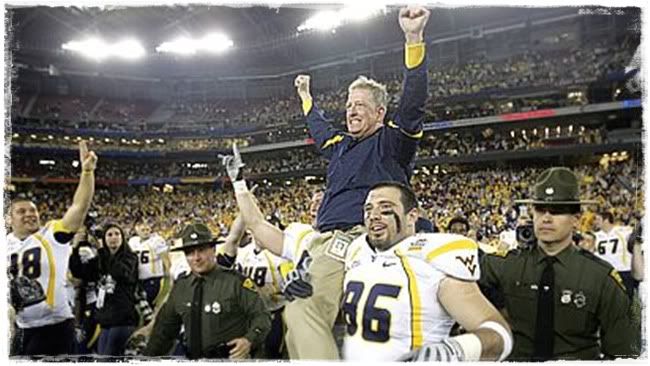 Oh Bill Stewart, we hardly knew ye. And we don't really miss ye either.
Yes, this was perhaps the BIGGEST victory ever in WVU football history. No coach and no chance proved to be very little of a problem.
And to this day, I still can't believe we missed it.
Images provided by
wvinter
,
maryschwalm
, i252.photobucket, and
a.espncdn.