As Edward O'Neil, played by the talented Jack Warden, so eloquently stated in the very hilarious football movie The Replacements, we've all
"
seen monkey-shit fights at the zoo that are more organized than this."
"This", of course, refers to the disaster that is currently the NFL replacement refs.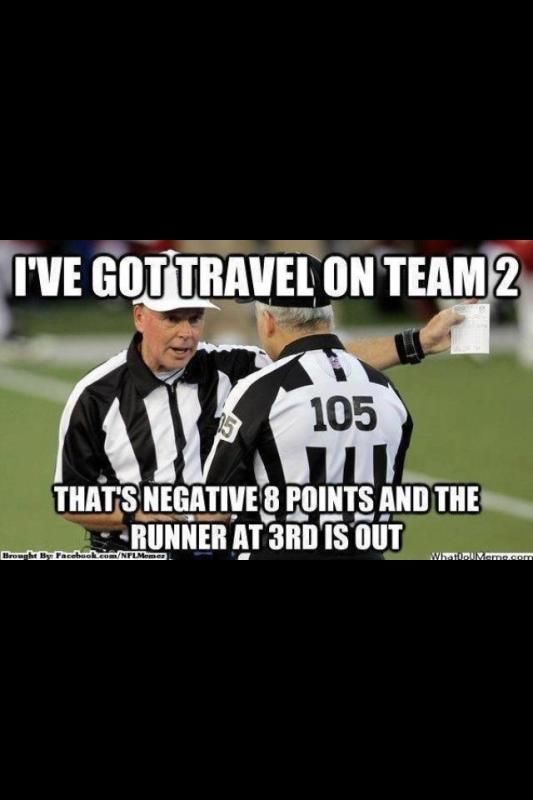 Seems Legit
The regular men in stripes, who before the season were locked out by the league over union disputes involving pay and pensions, have always been the focus of fan hatred.
"WHAT THE F*&*&* was that ref? Get off your knees, you're blowing the game!" is the battle cry that has echoed throughout stadiums since the dawn of organized sport.
But now? Now those beloved officials and their "expertise" have probably never been as sorely missed.
Exhibit A: Monday night's game between the Seattle Seahawks and the Green Bay Packers.
With the 'Hawks down 12-7 and facing a 4th and 10, QB Russell Wilson heaved up a Hail Mary pass that was intercepted by Packer Safety M.D. Jennings. Once Jennings fell to the ground, Seattle Receiver Golden Tate grabbed onto the ball.
The result was one ref signaling an interception and one signaling a touchdown. Simultaneously.
After a ten minute debate in which both teams cleared the field, the "ruling" on the field was indeed a touchdown.
Except, you know, it wasn't.
But let's be fair..."real" refs have blown calls too. Remember in 1990 when Colorado came from behind to beat Missouri 33-31, all thanks to a "fifth down"? Remember in 1999 when the Thanksgiving game between the Steelers and Lions went into OT, Jerome Bettis called "tails" but ref Phil Luckett heard "heads", and the Lions "won" the coin toss and ultimately the game? Or how about when the phantom offensive pass interference call against Darrell Jackson took points off the board for Seattle in Super Bowl XL, thus giving the Lombardi trophy to the Pittsburgh Steelers?
So, refs blowing calls? Not anything new. It's just that these replacements are going beyond an occasional miss to out and out ridiculousness. Ignorance of rules, confusion over downs, not sure where the ball should actually be placed...all things that have become the norm these past few weeks.
Perhaps my favorite outlook on this was a story done by Deadspin, who tongue-in-cheekly suggested that these scabs were intentionally sabotaging games. You know...just cause they can.
It's like the Three Stooges meets the NFL. While it's sometimes so mindblowingly terrible that it's funny, eventually the players safety and the integrity of the games is going to be sorely affected. And that moment might have already arrived.
**********************************************************
Weigh in on the referee sitch. Should the NFL and Roger Goodell suck it up? Should the players go back on strike? Let me know!
Image provided by www.whatdoumeme.com.