It's finally here. The London Games! The 30th Olympiad! The sporting event that pre-empts every other TV show!
It's been a while since we've last met, but the Olympics are a special occasion. Ergo, I thought I'd bring you a special live blog of the Opening Ceremonies...5 days later.
You know, just like NBC
. Now, this may not make any sense if you didn't watch the ceremony Friday night, but that's not my problem, mmkay?
Enjoy!
*************************************************************
Initial thought....are they just going to do everything on grass? 'Cause that's both lazy and weird. Pastoral, but weird.
Oh no wait...there goes the grass. Whew.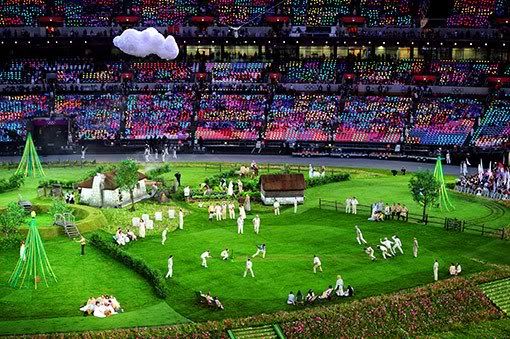 The 2012 games are brought to you by Danny Boyle's 5th Grade diorama.
Ahh, look. There's Kenneth Branagh. How much do I love him? (answer...a lot). I'm now explaining who exactly he is to my stepdad, though. Sure, he's no Mr. Bean, but he played a mean Hamlet.
Moving on to the industrial revolution....they're now forging a ring with lots of fire and smoke. There's surely a Tolkien joke in here somewhere, but I'm not in the mood to think of it.
In a land called Mordor...far, far away...
Hold up now...is this Daniel Craig aka James Bond? Why, yes it is! Someone British I adore even MORE than Kenneth Branagh. No explanation required on this one. And wait for it...he's with THE QUEEN!!!! HRH!!!! They are so their own Dream Team. As I'm watching them load into this helicopter and "jump" out of it to make their grand entrance, I'm struck by the thought that I had no idea the Queen was such a great sport. I guess everyone wants to be a Bond girl.
Words cannot even express...
We're about an hour or so into this, and I'm beginning to wonder when Harry Potter will make an entrance. Someone on Twitter remarked that Harry would be lighting the Olympic cauldron with his wand. Now THAT would be amazing.
We've moved on to a tribute somehow incorporating British children's lit and the health care system. Okkkk then. Looks to me like just a bunch of kids sharing a gurney. Do you really have to share beds as part of Great Britain's health care? Cuz they might want to re-think that.
As the kids fall asleep into some sort of nightmarish world (because you know you're not having good dreams with little Tommy kicking you from the foot of the bed), blow-up villians from famous books appear. Among them, a blow-up Voldemort (Yay Harry Potter!). Now all we need is a Roald Dahl giant peach rolling kids over Indiana Jones-style and we're all set. PS...the ginormous baby at the end of this sequence was BY FAR the scariest thing. *Shudder*
*Insert Mr. Bean/Rowan Atkinson/Chariots of Fire skit here*
Some sort of MTV on crack portion is happening now. I have no idea what's going on, other than Meredith Viera is singing like she's in her shower and not broadcasting an event watched by billions. I'd say this would be the most awkward thing of the entire evening, but it's not.
I immensely enjoy the Bowie homage, but am thoroughly confused by the London rapper. They have those? I thought Great Britain just shipped in Kanye when they wanted rap. Also? Who else thought that Prince Harry should have been in the middle of that house party, doing some sort of keg stand. No? Just me?
Oh hayyyyy the Parade of Nations is finally starting. Let the inappropriate and insensitve comments commence!
First up, Bob Costas makes a pretty funny badminton joke (not funny enough for me to recount here, but funny). Apparently Denmark is the most competitive non-Asian country in badminton. Huh, how bout that.
Five hours later, I'm trying to get over my appalled horror at the Ugly Betty inspired Mexican outfits when I hear Costas refer to the genocide in Rwanda as "the trouble they had in the 90s". Yes Bob, that would be one way of putting it. Thank goodness they've gotten past that though, right? Genocide really brings down a party.
And.....I'm drifting off....zzzzzz....OH THE USA! I mean, can't we just go by America? That would make this thing so much easier to watch. I love that LeBron is surrounded by some white dudes who are not-so-subtly trying to get him their camera shots. Everyone loves a winner.
Great Britain has entered, which means we're just one cauldron lighting away from being done this ten hour broadcast. Now usually this is some top-secret "Winston Churchill is rising from the dead to light it with a cigar" kind of thing, but nope. The British showcase a bunch of nobody teenagers who may or may not succeed in sports one day. The multi-petaled fire thingy is super cool though.
YAY! The torch is lit, the Queen has declared the Games open, and Sir Paul McCartney is leading everyone in Hey, Jude. This party is officially started.
Welcome to London, ya'll!
Images provided by
usatoday
,
csmonitor
,
coventrytelegraph
, and
popwatch.ew.