Last night I was faced with what can only be described as my own personal
Sophie's Choice
. Should I watch the fantasy date episode on
The Bachelorette
, or should I tune into the 2012 Home Run Derby? The evil TV gods had scheduled both for the same time slot, and I was torn.
So I did what any self-respecting sportsonista would do: I switched back and forth between both. And while I won't bore you with details of The Bachelorette, I will share some thoughts on the Derby.
Confession time... I didn't catch most of the first round, but of course, the HR Derby wouldn't be anything without some drama. The initial round was chock full of it. Andrew McCutchen getting overshadowed by the Josh Hamilton interview, captains Matt Kemp and Robbie Cano combining for ONE blast, and last years champ Cano getting lustily booed by the KC fans. And by lustily, I mean booed past the point of good-natured rivalry into the territory of awkward panda. Of course, Cano took to twitter to retaliate:

It's the second round, however, where shiz got real. How fantastic was the George Brett interview and his subsequent delivery of ribs to John Kruk? Umm pretty damn fantastic. But I guess that's what being an "ambassador" of the All-Star Game does...has greasy, messy food delivered to the broadcast crew. Well played, sir.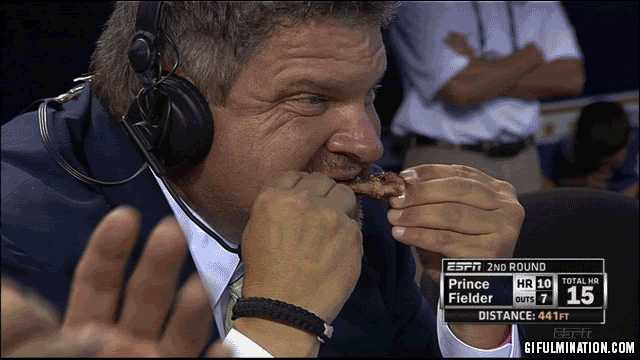 Side note...did you know both Brett and Kruk are from WV? Me either.
Anyway, to recap the second: the kid Mark Trumbo was crushing them out of the park, threatening to put holes in the outfield wall. Trumbo was a questionable pick, but he provided some Josh Hamilton excitement to the contest. Meanwhile, Prince Fielder got über friendly with the outfield fountains, securing a spot for the championship after barely eking into the second round. First round leader Jose Bautista only needed three homers to make it into the finals, but with one out left and only two blasts recorded, the drama (as Chris Berman surmised) was on. Bautista sent it into a swing off with Trumbo, but knocked two out to advance against Fielder. Oh the drama!
To the finals we go....
Fielder went first, and by his sixth home run, I was almost convinced Bautista was going to just call it a day. But he didn't, and the Prince hit for an impressive 12-run third round, tying Cano's record set last year. For his part, Bautista put up a good fight and recorded 7 dingers, but in the end it just wasn't enough.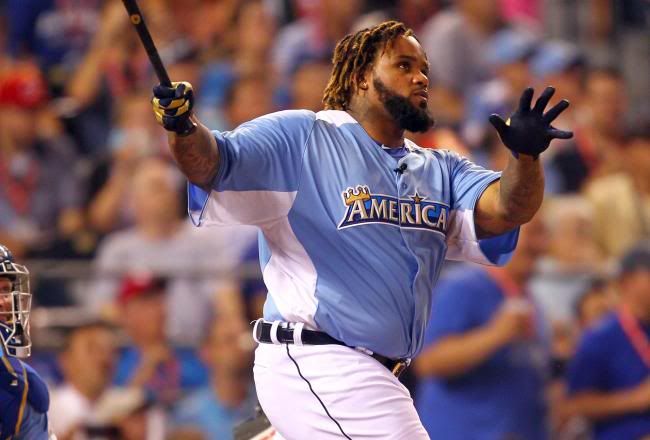 The Prince was King in last night's Derby
Prince Fielder became just the second player to win two Home Run Derbies (Ken Griffey Jr. is the other), and the FIRST to win it as a National and American League player. He also won both of his titles in the state of Missouri (taking the title in St. Louis in 2009), proving that he takes the Show Me State motto to heart.
And so, with that another Home Run Derby contest concluded. It wasn't the most epic battle we've ever seen, but it had ups, downs, and yes Chris Berman, it had drama.
Just like the Bachelorette.
Images provided by orioleshangout and bleacherreport.