He's Baa-aaa-aaa-ccc-kkk!!!!!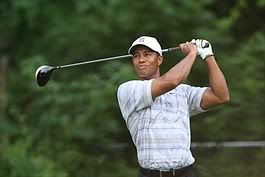 At least, that's what ran through my head when I saw that Tiger (Woods, for those of you who have been living under a rock the last decade) had won the Chevron World Classic by sinking two birdies to finish his last round.
In the past, this would have been just another ho-hum headline. However, since his personal life provided mucho tabloid fodder two years ago, Tiger has been winless. 749 days winless to be exact.
Not that this seemed to bruise his inflated ego. I recall an ESPN interview last spring where Tiger intimated that he was still "the best player" in the game with a smug smirk and faux humble head nod.
Yet, match after match, tournament after tournament, Tiger has found himself on the losing side of the back nine.
Lately, though, Tiger does seem to be on the rise back to glory. In his past three tournaments, he combines his Chevron win with a third-place finish in the Australian Open and scoring the clinching point in the President's Cup.
In his post-tournament interview, Tiger was excited to be back on top:
"I feel pretty good going into next year," Woods said. "If I have a good year I should be on the ballot for Comeback Player of the Year, so I'm excited about that."
Also? Insert "Most Obnoxious and Smarmy Player on Ballot" joke here.
Anyhoo, judging by the way his name was smeared across Sports Center and PTI headlines last night, it's not hard to see that the world is eager for Tiger's return.
Maybe this time around he won't blow it.
Image provided by
wikimedia.