The Game of the Century.
At least, that's what the announcers kept touting Saturday night's match-up of #1 LSU against #2 Alabama. It was LSU's old coach vs. LSU's current coach. It was the first time the top two rated teams had matched up in regular season play since 2006, when 11-0 Ohio State took on 11-0 Michigan (Ohio State won 42-39).
Incidentally, I think that was the last time Michigan was actually good.
With all the hype, this was the game I'd been looking forward to watching for quite some time. I made it home from the WVU debacle just in time to settle on the couch and flip on the TV with most of the first quarter left to play. Exciting thoughts raced through my head.
"Would the Honey Badger strike again?"
"Would Trent Richardson bust through the stingy LSU line?"
"Are all kickers from Australia as awesome as Brad Wing?"
If the game outcome is any indication, then Alabama is probably also asking itself question number 3. Because, after all the hype, the "game of the century" came down to special teams. It was Brad Wing and fellow LSU teammate and kicker Drew Alleman who emerged the victors in the Tigers' 9-6 OT win. Wing had 73 yard punt in the 4th quarter, making it the third longest in school history. Alleman chipped in a 25 footer to win the game. Conversely, Alabama's Cade Foster and Jeremy Shelley missed three kicks and had one blocked.
And since I've just spent a paragraph talking about KICKERS, you can guess that the game was...shall we say...not the most prolific offensive display I've ever seen.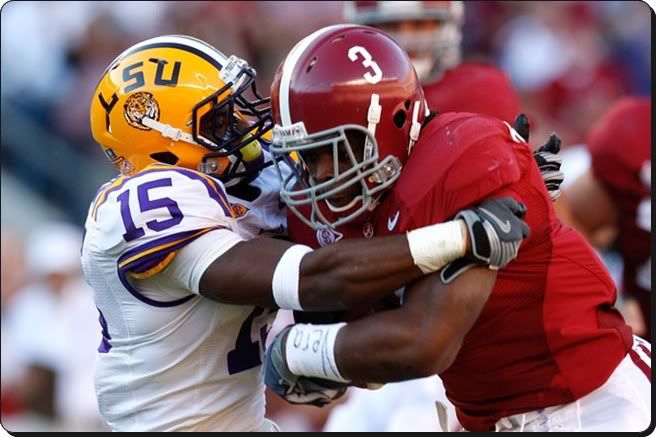 After 60 minutes of this gridlock, LSU ended it with the game's 5th field goal.
Three and outs, drives interrupted by interceptions, and grueling, grinding defense was pretty much the rote for 60+ minutes.
Not that we didn't expect that. The SEC is known for its Big Ds. These aren't high-flying west coast offenses. But still, a game without touchdowns is like watching paint dry.
Although, if you were bored by watching two teams just hit each other and trade field position, you probably could have made a drinking game out of the amount of times that Verne Lundquist and Gary Danielson uttered any semblance of the phrase, "Well, you never know what he'll do...he's the Mad Hatter" (in reference to LSU head coach Les Miles).
Scenario: LSU is down 6-3. They're getting ready to kick a field goal.
"Well, we think they're going to kick but you never know what the Mad Hatter will do. I mean, he's the Mad Hatter. He's gotta do something crazy, right? The Mad Hatter?"
They kicked
.
I honestly think that Miles is so typically bat-shit crazy that people are disappointed when he just plays normal football. And that's what he did on Saturday. In fact, Les himself summed the game up perfectly when he surmised during a post-game show interview, ""What kind of highlights can you even show, 9-to-6?".
Well, he did trip during the pre-kickoff run out, but that's probably not what they were going for.
No trick plays, no Nick Saban magic, no Trent Richardson sprint to the endzone, no returned interception by the Honey Badger. Just some field goals....both made and missed.
It might have been the game of the century. But frankly, I was a little bored.
***********************************************************************
So what did you think of the game? Could you stay awake through it all? Were you glad that LSU won? Do you think they'll have a rematch in the Title game? Let me know!
Image provided by
zimbio.