Can you believe it's the first day of November? I mean, seriously...where has the time gone? In just a few short months, spring training will begin, and the Orioles will be
thisclose
to being mathematically eliminated from the playoffs.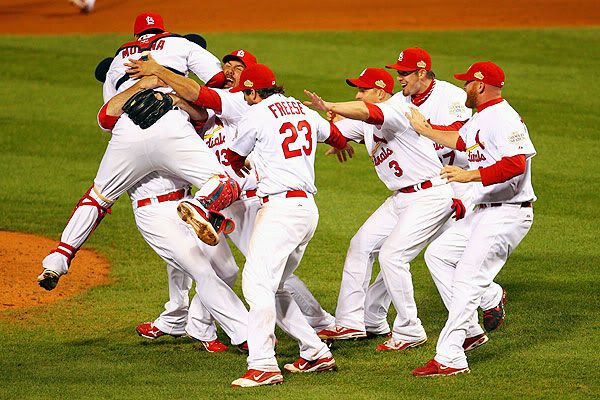 2011 World Series Champs

But, lest I get ahead of myself, let's recap what went down in the world of baseball this weekend. In case you didn't know, Thursday night saw an epic game six battle between the Texas Rangers and the St. Louis Cardinals. One strike away from elimination, the Cardinals survived off of David Freese's walk-off home run hit in the 11th to force a game 7.
Fast forward to Friday night. The game 7 that seemed so unlikely 24 hours earlier was primed to be one to remember. And for the St. Louis Cardinals, it will be.
This was the team that was 3 games out of the playoffs with only five games remaining in the regular season. The Cards needed losses by others to just make it in. Once in, they needed to beat the Philadelphia Phillies, who had one of the best pitching rotations in the MLB.
Next up was Milwaukee, who had
overcome their own odds
to become a formidable opponent. But the Cards took three out of four from the Brewers to move onto the main event.
In the World Series, St. Louis was up against the 2010 runner-ups Texas Rangers. Maybe it was finally Texas's year to win it all. And when the Rangers were up 3 games to 2, and the Cardinals were down to their last out not once but twice, it looked like it would be.
But fate has a funny way of rearing its head. St. Louis won game 7 in a convincing 6-2 manner. Then yesterday, legendary manager Tony La Russa announced his retirement after 33 years in the business. In his 16 years at the Cardinals' helm, La Russa led his team to three World Series and two championships. He retires as the third winningest manager of all time, after John McGraw and Connie Mack. And, as Tony succinctly put it, factors "all just come together to tell you your time is over."
Yes, I'd say that winning the big show is a great way to go out. But with the return of Matt Holliday, Albert Pujols, Nick Punto, Lance Berkman, Chris Carpenter, and others, I have a feeling that the Cardinals are just beginning to write their own story.
So what did you think of the 2011 World Series? Was game 6 the greatest game ever? Were you happy the Cardinals won? Let me know!!!
Image provided by
sports.espn.