I'm about to rock this blog like a vandal, because hockey is back ya'll.
The NHL opened up the 2011-12 season this past weekend, and let me tell you, it didn't lack for excitement. We've already had a jersey retired (Peter Forsberg's #21 at the Avs/Red Wings game), a suspension (2 games for Minnesota's Pierre-Marc Bouchard taking his stick to Blue Jacket Matt Calvert's face), and the debut of the new (old?) team, the Winnepeg Jets (who, after a 15 year hiatus, opened with a 5-1 loss. Oops).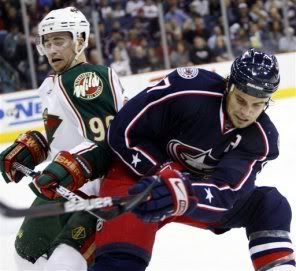 Pierre-Marc Bouchard gives a high five....to the face...with a hockey stick

Now that the party is jumping....
Pittsburgh Penguins star Evgeni Malkin triumphantly returned from a season-ending surgery last February in the Pens opening shoot out victory against the Canucks. The return was short-lived, however: Malkin missed Sunday's game against the Oilers with a "lower body injury". Meanwhile, the Oilers showed their draft mettle. Number one entry pick Ryan Nugent-Hopkins tallied his first goal in his first game to send the match against Pittsburgh into overtime. The Oilers won 2-1.
The reigning Stanley Cup Champs Boston Bruins are a mere 1-1 after this first weekend, losing their first game to the Philadelphia Flyers before rebounding against the Tampa Bay Lightning. It's possible MVP Tim Thomas is still nursing a championship hangover, because Tuukka Rask started in net for the Bruins in last night's game against the Avalanche. Or maybe it's just more fun to say "Tuukka Rask" than "Tim Thomas".
Slice like a ninja, cut like a razorblade....
The Flyers are 2-0 after beginning their season on the road, aided by the play of newbie Flyer Jaromir Jagr. Jagr netted his 1,600th NHL point in the opener against Boston.
Just cuz I'm old, doesn't mean I can't still kick your ass
Recent perennial powerhouse Washington Capitals are also off to a good start, which isn't surprising. They don't tend to lose until it counts. Like the playoffs.
Anything less than the best is a felony....
And finally, former NHL great and hockey legend Brendan Shanahan has officially begun his rule as the league's chief player disciplinarian. "Shanaban", as he is now referred, seems to mean business with his punishments. He's clearly well-versed on rule breakers, as he himself logged over 2000 penalty minutes during his career.
So there it is folks: a whirlwind tour of hockey's first weekend, all wrapped up in a blanket of lyrical poetry. Did you happen to catch any of the games? Was there anything or any team that stood out to you? Do you now have
Ice,Ice Baby
running annoyingly through your head? Let me know!
P.S. I totally tried to fit in A1A Beachfront Avenue, but it just didn't seem to go.
Images provided by
nbcprohockeytalk
and
latimes.