Though it may not seem like it, I try to stay away from talking about WVU sports as much as possible, because I begrudgingly admit that not all of you are fans of the blue and gold. Why you're not, I don't know, but you're not.
Anyway, last week I shared pictures from the WVU Coaches Caravan dinner that I attended. Partly because it was a really sah-weet event, but mostly because it presented a golden opportunity for a blog post that wouldn't take up too much of my time. And since I had an 8:30 am call for Pirates of Penzance on Friday, I was all about the easy street.
I was determined to find another topic for today's Friday Fun post. But, as it so happened, a lot of WVU-related newsworthy items occurred this past week. Ergo, you're just going to have to bear with me. Mmmkay?
********************************************************************
It was announced Monday that Pat Beilein, former WVU basketball player and son of Michigan Head Coach (and former WVU head coach) John Beilein,
will be returning to the state as the new head men's basketball coach for West Virginia Wesleyan
.
This is exciting for all sorts of reasons. 1) Pat was a freshman the year I was a senior in college. We didn't realize it then, but that freshman class, which consisted of Joe Herber, JD Collins, Kevin Pittsnogle, and Mike Gansey, would take the team to an elite eight showing just two years later in the NCAA tournament. 2) That same class were seniors the year I returned to WVU for my Masters in Sport Management. 3) My friends and I would often run into either Pat or his brother at Sheetz after a late night out. To this day, we have a running joke about seeing a "Beilein" at Sheetz, regardless of what state we're in. And 4) Pat Beilein is hot.
For those of you who don't know, Shepherd University, for whom I work, plays in the WVIAC...the same conference as WV Wesleyan. Pat becomes the third former WVU player to join the coaching ranks in the WVIAC, as Rob Summers and Joe Mazzulla are both assistant coaches at Glenville State.
Needless to say, when basketball season rolls around next year, I'll probably be sweet talking Shepherd Head Coach Justin Namolik and Assistant Coach Casey Weitzel for some introductions.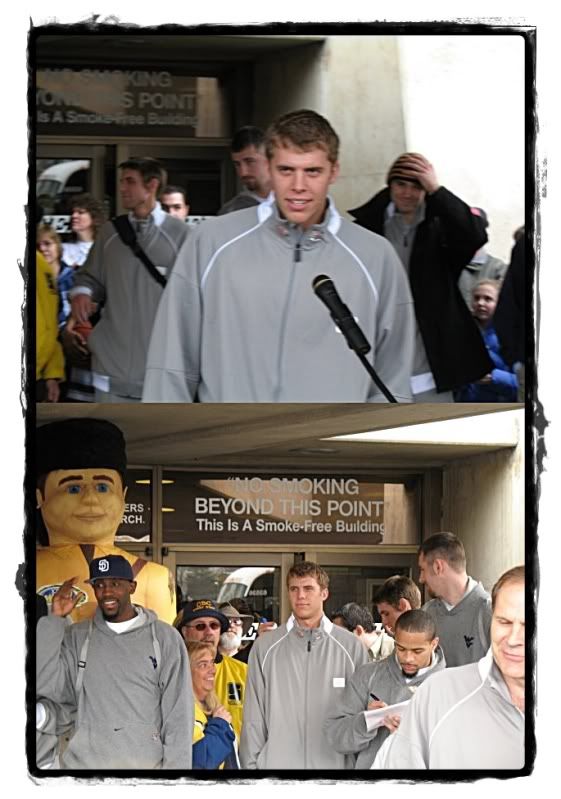 Some pics from the 2006 Sweet Sixteen team

Unfortunately, this announcement was overshadowed Monday by another, more tragic one: former Head Football Coach Bill Stewart collapsed on the golf course of an apparent heart attack and died. Stewart, who was replaced last season by head-coach-in-waiting Dana Holgorsen, had "resigned" his post amid allegations of backstabbing and other nefarious actions.
Regardless, Stewart will probably most be remembered as the guy who loved his state, who loved his players, and who loved life. Perhaps his greatest legacy is the leading of WVU to the 2008 Fiesta Bowl title over Oklahoma when then- Head Coach Rich Rodriguez abandoned ship for the "greener" pastures of Michigan.
Since Monday, much has been written in the press about Stewart as a person, and yes...as perhaps a not-so-apt choice to replace Rodriguez. One of my favorite stories was forwarded to me yesterday by my friend Leah, who thought I might be interested in reading some of the Dominion Post articles. The following was included in this gem of written by Drew Rubenstein:
The husband
Lee Good had never shared what Stewart did on Feb. 1, 2009, until Monday evening. Stewart made him promise to keep it a secret.

According to Good, Stewart and his wife, Karen, rarely spent her birthday together because it fell just before National Signing Day, which is always the first Wednesday in February. But in 2009, Stewart decided to treat his wife to a night out in Pittsburgh with friends. The Stewarts and two other couples made dinner reservations and bought tickets to attend "Jersey Boys" at the Benedum Theater. The plans were finalized — and then the Pittsburgh Steelers advanced to Super Bowl XLIII.

About a week-and-a-half before the game, Steelers Coach Mike Tomlin called Stewart and said, "Stew, I've got you a pass and a coach's shirt. You're going to run out on the field with us and be on the sideline with us for the Super Bowl."

Stewart gave Tomlin his first coaching job, hiring him as an assistant at the Virginia Military Institute. Stewart took great pride in watching Tomlin guide Pittsburgh to a 27-23 Super Bowl victory.
But he didn't learn the game's outcome on the gridiron. He learned of it after leaving the musical in Pittsburgh.
"We were sitting in the first three rows in the balcony," Good said. "We had the best seats in the house. He couldn't stiff his wife for the chance of a lifetime," Good said. "He just couldn't tell Karen, 'We have to put it off so I can go to the Super Bowl.' There's no way he could have done that. That's how dedicated he was to his family."
Good, who had Stewart serve as his best man in his wedding to former WVU gymnastics coach Linda Burdette-Good, said he was devastated by the news of Stewart's death. "He was unique and he was sincere. He was loyal and a man's man," Good said. "Some made fun of him because he didn't have that New York pizzazz, so to speak. He was country. That's who he was. There was no facade there. He was just the best."
Honestly, if you're remembered as great man, but a mediocre head football coach, you've got nothing of which to be ashamed. And when it comes to remembering Bill Stewart, being a great man was something he will have left little doubt of in the minds of those who knew or knew of him.