The Triple Crown in Horse Racing.
Probably one of sports' most illustrious and most unobtainable honors. To earn such a title requires the winning of the Kentucky Derby, the Preakness, and the Belmont Stakes. Last time that happened? When Affirmed took the crown in 1978....almost 40 years ago.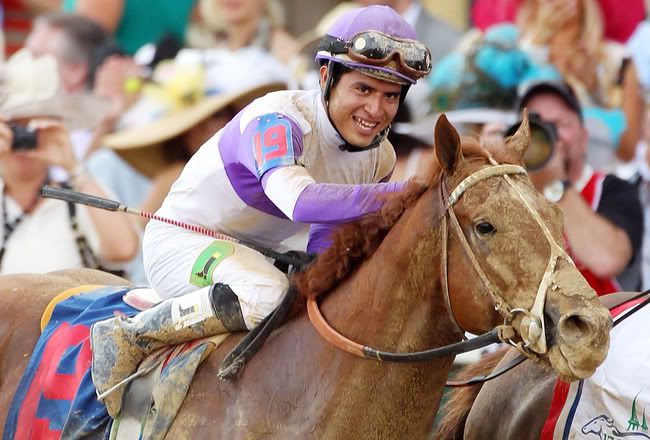 Side note: Of the 11 Triple Crown winners in history, Affirmed can be linked to three of them: 1937 winner War Admiral, 1935 winner Omaha, and 1930 winner Gallant Fox.
Because of the different race lengths, it has become nearly impossible to achieve the title in recent times. Thoroughbreds are often geared toward becoming speed horses or closers. Consequently, a horse suited to winning the Kentucky Derby (1 1/4 miles) or the Preakness (1 3/16 miles) is not usually conditioned for the longer, more grueling Belmont (1 1/2 miles).
In fact, the last three Triple Crown series have seen 9 different winners. Not since 2008 has there been a chance for a title winner, when Big Brown took both the Derby and the Preakness before
finishing 9th in the Belmont amid controversy
.
Until now.
After once again surpassing Derby runner-up Bodemeister at the wire in last Saturday's Preakness, I'll Have Another is primed to achieve what very few have. And let's be real, few of us saw it coming.
Sure, the colt, owned by J. Paul Reddam and trained by Doug O'Neill, was picked by some racing pundits as the horse to watch coming into the Derby, but I'll Have Another was simply not the media darling like Bodemeister, Gemologist, or Union Rags were.
But perhaps, that's what makes him so exciting. To top it off, newcomer jockey Mario Gutierrez has stolen the hearts of anyone who follows racing. The humble 25 year old from Mexico has led his mount to two incredible victories.
In two weeks time, I'll Have Another will be looking for one more win. If he succeeds, he'll become just the 12th horse in history to take the Triple Crown. And, given his closing speed, that feat is very possible.
So....no pressure or anything.
Image provided by
bleacherreport.