I promise I'll give you my thoughts on that spectacle which was Super Bowl 47 sometime later in the week. For now, though, I wanted to pay homage to all twitter had to offer on the subject. From Ray Lewis to Beyonce to the blackout, the twitterverse was in rare form. And I salute you.
************************************
RAY LEWIS
Oh, I see what you did there.

He's a feelings kind of guy. GET OVER IT.

I mean, seriously. We can all relate.

HALFTIME
Agree completely.
Truer words, my friend. Truer words....
THE BLACK OUT
Destiny's Child tried to warn us.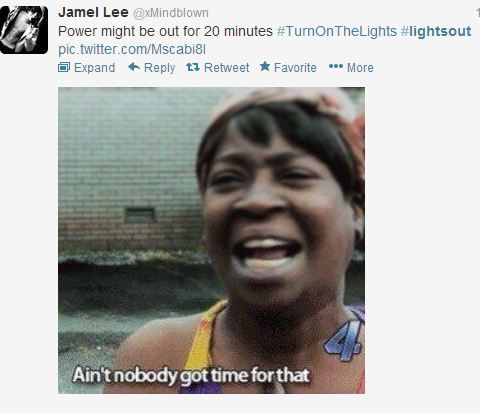 Really, no caption needed.
The Power Outage just wanted more halftime. Is that too much to ask?

Again, no caption needed.



Especially if you don't want your life thrown to Steve Tasker after a commercial break.