Guys, so much has happened since we last spoke. Probably because I've taken to blogging once every blue moon, but that's beside the point.
January was so jam-packed with sport-related
crazy
goodness that I almost don't know where to begin. Oh wait, yes I do.
CATFISH.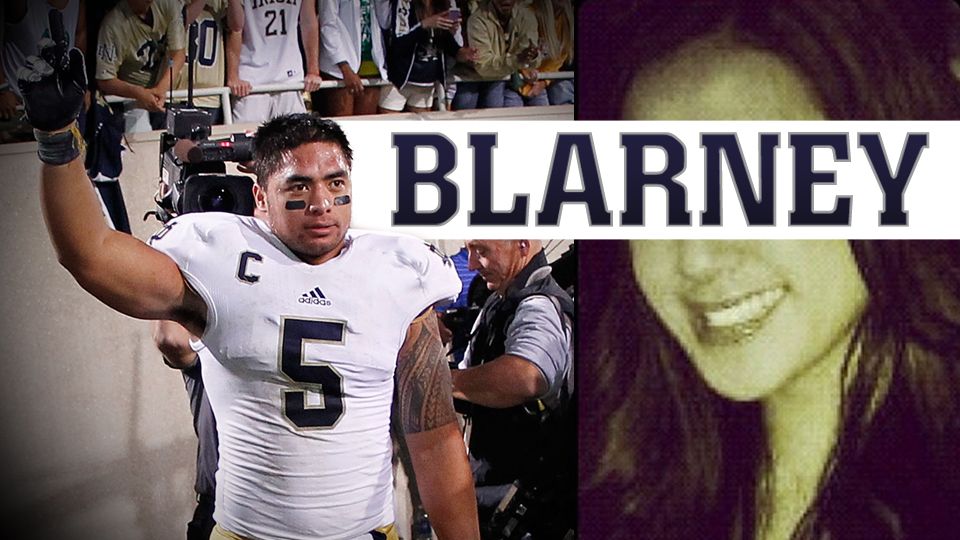 Sometimes the Irish don't get lucky.
By now, you're all aware of the ridiculousness that was the Manti Te'o catfish conundrum. After Deadspin broke
this story
on January 16 (was it really only just 15 days ago?!?!) that Te'o's dead girlfriend Lennay Kekua didn't actually...you know...exist, all hell seemed to break loose. After all, it was Kekua's untimely loss of her battle with leukemia just hours after Te'o's grandmother had also passed that propelled the Notre Dame linebacker into the national spotlight...and smack into the Heisman race.
Each passing day brought us more and more versions to support how much the player may or may not have been involved in the whole debacle. It seems now that Manti was just a
victim of
Ronaiah Tuiasosopo, who created the fake profile. Then Dr. Phil got involved, and pretty much everyone lost interest.
***************************************************
Which leads me to Oprah (natch!) and her interview with Lance Armstrong, who kinda sorta admitted that he was indeed doping for all those years that he said he wasn't. No one was probably more happy than Lance that the whole Manti Te'o story broke when it did, deflecting some of the media's attention. Unfortunately for Lance, he's now being sued by two former fans over his autobiography "It's Not About the Bike". They claim that they purchased the tome under false advertising, as the story is more fiction than fact. Poor Lance. Doesn't anyone care anymore that the man survived cancer and only has one testicle? That's got to count for something, right????
*****************************************************
The NHL returned to center ice on Saturday, January 19th. Although fans had threatened a lockout of their own, it seems like it took nothing more than $1 hot dogs to woo them back. Games have seen record crowds, and television numbers have been up. Unfortunately for my Washington Capitals, things looked better during the off-season than they do right now. The Caps are a dismal 1-5-1 after two weeks of play.
****************************************************
And finally, this Sunday is the BIG GAME between the San Francisco 49ers and the Baltimore Ravens. Also known as the Har-Bowl. Also known as Ray Lewis's last hurrah. Also known as...no, that's pretty much it. While many of you will be tuning in strictly for the commercials and the half time show, there are more than a few intriguing story lines that will play out for Super Bowl XLVII. For instance, which Harbaugh brother will be able to claim victory at family events over the next...forever? Does Randy Moss's ego have more room to grow after proclaiming himself the "greatest receiver to ever play the game" during media day? Will Deion Sanders just stand beside Alex Smith on the Niners' sideline and continue to ask him if his lack of podium still bothers him? And for God's sake, will Beyonce lip sync????
I'll tell you this much, regardless of who wins, you can guarantee Ray Lewis will cry at least five times.
***************************************************
Well kids, that's all I've got. Enjoy your weekend. Stay dry, stay warm, and stay humble.
Image provided by deadspin.