March Madness has been gone for nearly a month now, but college basketball crazy is still continuing.
Last week, Wisconsin men's head basketball coach Bo Ryan came under fire for instituting blocks on redshirt freshman Jarrod Uthoff's decision to transfer. Ryan barred Uthoff from transferring to any Big Ten and ACC squad, as well as several other schools that were on the Badger's schedule.
Coach Ryan's actions incited polarizing reactions from the media. A Bleacher Report headline read "Bo Ryan Has Done Nothing Wrong", while a columnist from that same site stated that the Wisconsin coach should "be vilified for restricting transfer options."
Um....talk about your mixed messages!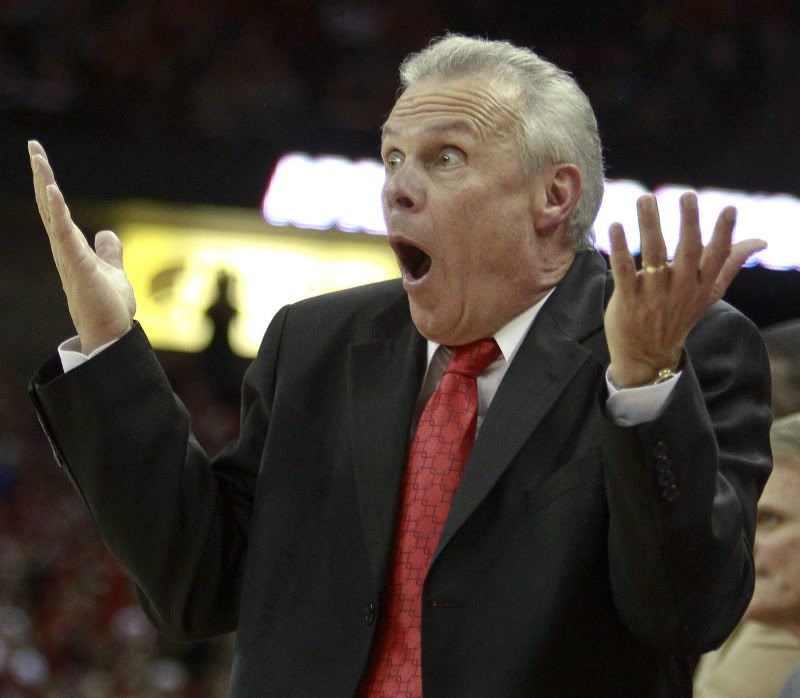 What do you mean I can't ban him from playing ball forever and ever???
Coach Ryan, backed by the Wisconsin athletic department, explained his initial reaction as a foray into uncharted waters. Under his tenure, the coach has only had one other transfer. The advice he sought from colleagues on dealing with the matter seemed to point him toward the direction of banning contact with the above mentioned schools.
However, most media pundits saw this as a move that was neither justified nor ethical. They criticized Ryan's statement that signing a scholarship equated to signing a contract as ridiculous. Sports columnist Ryan Rudnansky stated that any restrictions outside of conference become "excessive and borders on the lines of simply being vindictive."
To an extent, I have to agree with Rudnansky. Blocking transfers to an in-conference school is commonplace. Frankly...any school in Division 1 would be fair game for barring as defined by Coach Ryan's initial reasoning, as you never know who you might meet up with in post-season play. And I think we can all agree that's just ludicrous.
But do I think it borders on being vindictive? No, not necessarily. I think Ryan was just misguided in a situation to which he was unfamiliar. Making a bad judgement doesn't make one a bad person.
After the initial heat wave, Ryan and Co. backed off the transfer restrictions (outside of the Big 10). But not before the Wisconsin coach found himself the topic of every sports show in America, including a
not-so-flattering debate on ESPN's
The Mike and Mike Show.
Which just goes to show...the more gray area the NCAA stays in, the harder it is for those involved to make well-founded decisions. A coach who has always been known for having a clean program will have a black mark on his reputation forever.
And that, my friends, is the real shame in the matter.
***************************************************
So, what do you think about the matter? Was Coach Ryan right in his initial reasoning, or are you glad he backed off his strict transfer policy? Let me know!
Image provided by thesportsbank.