After three long weeks (four if you count conference tournaments), the NCAA Division 1 Men's Basketball finally crowned itself a champion.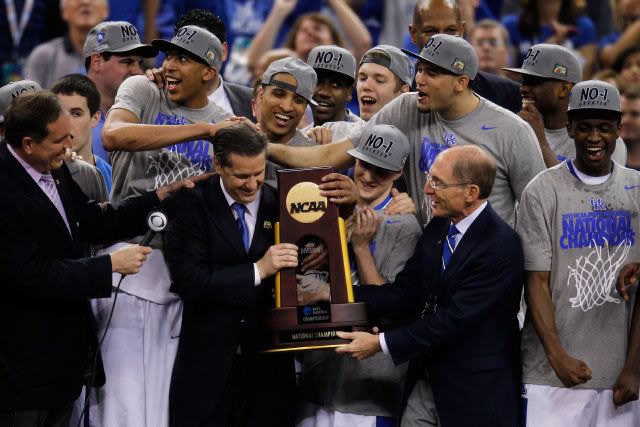 Cue some Queen,
cause they're the Champions of the World.
First of all, kudos to me for correctly picking the Kansas/Kentucky Final despite
having a bracket that sucked like nothing has ever sucked before.
But second, kudos to the University of Kentucky for achieving what 67 other teams couldn't: a National Championship Title.
Last night, the Wildcats and the Jayhawks met for a re-match of their scuffle in Madison Square Garden to begin the season. Though Kentucky had pulled away for a ten point victory then, both squads were a little more seasoned and a lot more motivated.
I mean, these are the two most winning programs in collegiate basketball history, complete with two consensus first-team All-Americans in Kansas's Thomas Robinson and UK's Anthony Davis. Any way you sliced it, it was sure to be a good show.
Except
....Kentucky came out like gangbusters and jumped to an early first half lead behind their talented young squad. The Jayhawks had played from behind all tournament, relying on strong second half showings. However, a 16 point deficit with 9 minutes remaining seemed too much to overcome, even for them.
Except
....that's exactly what they did. With the Wildcats shooting a dismal 21%, Kansas cut the lead to five with a minute and a half remaining, and with 23.5 seconds left was poised to cut the deficit to a one possession shot.
Then
....Kentucky did what it had done all evening: played lights out defense. Kansas guard Elijah Johnson was forced to pull his shot down, consequently travelling with the ball. The Wildcats never looked back after that.
Thus ended another exciting year of college basketball. Sure, there were no Butlers, no VCUs, no George Masons in the hunt. Sometimes though....
just sometimes
....it's nice to watch a Goliath vs. Goliath match.
Don't you think?
Image provided by miamiherald.