It's play off time in the NHL, and no one was more shocked than me that the Capitals made it in. What's more, Washington is actually even with the #2 seed and reigning cup winners Boston.*
Update: The Caps lost a heart breaker last night, giving the Bruins a 2-1 advantage.
But the two big stories that have come out of the first round's opening round are 1) the Pittsburgh Penguins are on the verge of being humiliatingly eliminated in four games and 2) the sport's already- pronounced love of fighting and violence has stepped it up ten notches.
Poor Penguins. They
get superstar Sidney Crosby back
only to be invariably thrashed by cross-state rival Philly Flyers in the first three games. What's worse...the Flyers have come from behind in each contest.
Trust me Pittsburgh fans, I know how that goes. See above update.
What's not shocking about the series is the...shall we say...intensity it has brought out. Sunday's game three saw even usually mild-mannered Crosby and Philly's Claude Giroux mixing it up. In fact, there have been seemingly more fights than goals through the first three games, and there have been 32 goals scored.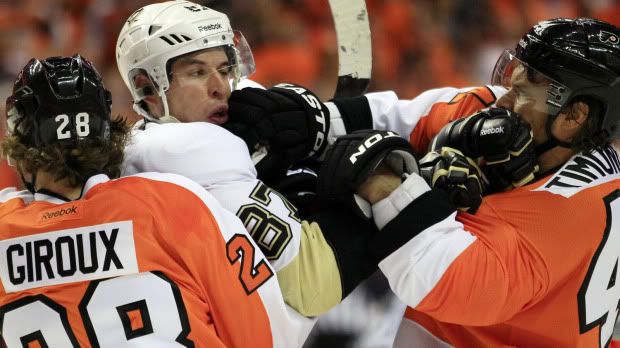 While this is a bitter and heated rivalry, the over-the-top fighting phenomenon has quickly become the trademark of the 2012 playoffs. I caught the third period of the Caps/Bruins game last evening and witnessed no fewer than four fights, one of which came after the game had ended. Center Nicklas Backstrom's cross-check to Rich Peverly's face as the buzzer sounded could land the star Caps player a seat on the suspended bench.
At least he'll be in good company. Penguins forward Craig Adams has been suspended for one game following that last Pens/Flyers game, Ottawa forward Zenon Konopka was fined for verbal abuse toward a Rangers player trying to conduct an interview, Ottawa defenseman Matt Carkner was suspended one game for going after Rangers center Brian Boyle, Rangers forward Carl Hagelin was suspended three games for throwing an elbow, and countless others have scrapped and brawled,
resulting in broken noses and bashed heads
.
True, it's a nasty sport, but fighting majors were actually down 25% this year until playoff time rolled around. Whether it's a instinctual desire to win at all costs, a blatant attitude of disrespect toward fellow players, or just a ploy to garner viewership, the name of this playoff game has been open season for goonery and thuggery.
Bash Brothers, Anyone?
But whatever it is, it's sure to keep me tuned in to the ending of an otherwise blah NHL season. And that, my friends, is all that matters.
Images provided by theglobeandmail and 27.media.tumblr.