Life lesson of the day: Don't make promises you really don't want to keep.
Last week I vowed to bring you some sort of NHL update after abandoning the topic for a much more sexy March Madness blog post. Then, as I was flipping through my sports channels last night trying to force myself to watch the Caps/Red Wings game, I realized....what the hell was I thinking?
But, a promise is a promise, so here goes.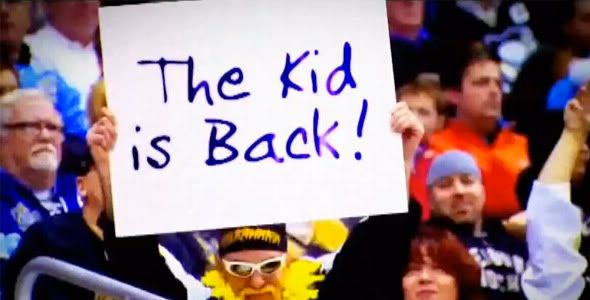 Sidney Crosby is back ya'll.
At least for the moment, anyway.
For the first time since December 5th, Crosby took the ice last Thursday when the Penguins played the Rangers at Madison Square Garden. Unfortunately for the first place Rangers, Crosby helped lead his team to a 5-2 victory, cutting the Blue Shirts' lead in the East to 4 points. For his part, the Kid registered two assists in the 3rd period.
Though the plan is to keep Sidney's minutes down for the moment, the streaking Penguins couldn't be more happy to have their superstar back in the line-up. Crosby's presence has allowed line mates Matt Cooke and Tyler Kennedy more breathing room on the ice.
Starting today, Pittsburgh will be coming down the back stretch to the playoffs, which includes 7 out of 11 games at the Consol Center. Crosby is happier than anyone to be back for this important time.
After all, there's no place like home.
Images provided by thepuckdoctors and cbc.ca.