Today's Friday fun post will be about professional bull riding.
Just kidding. Although...my first "lifelong" goal was to ride a mechanical bull. True story.
Regardless, I'm putting on my spurs and cowboy hat to do a round-up of all the sports tidbits that I've been neglecting to bring you since last week. I apologize for the little break, but sometimes life just gets in the way. Like planning your world domination.. Or being lazy.
So, without further ado, here's what
you
I
we missed:
Last Friday I talked about my excitement for the NBA All-Star special events,
specifically the slam dunk contest.
After faithfully tuning in Saturday night, I realized that they just don't make them like they used to. Or maybe they do, and we as a people have too high of expectations. I mean, is it really too much to ask for a dunk after jumping off some sort of wild animal? I think not.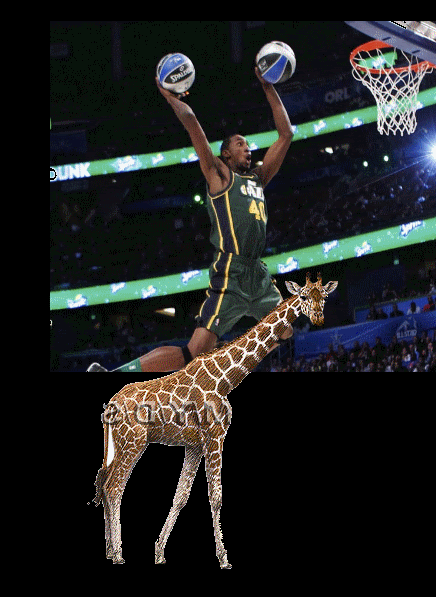 Now this? Would be awesome.
(Incidentally, Utah's Jeremy Evans won the contest. Evans was a late replacement for New York's Iman Shumpert, so that should tell you something about the quality of the contest)
Speaking of the All-Star weekend, the actual main event was fairly uneventful....except for Lakers star Kobe Bryant getting his nose broken by Miami's Dwayne Wade. Ummmm, D. Wade? You know this game didn't mean anything, right? We all think Kobe is an a-hole, but save it for when it counts, mmmkay?
In addition to the All-Star hoopla, this weekend was also the running of the Daytona 500. Or it was supposed to be, anyway. For the first time EVER, the event was rained out of its Sunday time slot and was pushed back to Monday afternoon. Then Juan Pablo Montoya slid his car into a vat of 800 liters of jet fuel, causing the track to erupt in flames. And if that wasn't ridiculous enough, racing champs Jimmie Johnson and Jeff Gordon finished 42nd and 40th, respectively.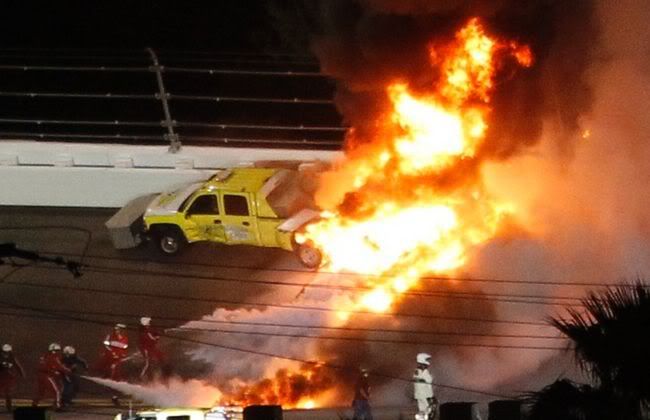 Was Adele there, setting fire to the rain????
According to a recent
CBSsports blog post by Gregg Doyel
, my
spomance fav Bob Knight
isn't having quite the same love affair with the University of Kentucky. In fact, supposedly Knight's distaste for Head Coach John Calipari is so great that he refuses to mention Kentucky or star player Anthony Davis when discussing top teams and players, respectively.
Another coach not feeling the love? UCLA's Ben Howland, who
was reported this week in Sports Illustrated
to be the reason behind the Bruins' recent decline. The program, which once made three consecutive runs to the Final Four in the late 2000s, is now ruled by party-crazy, rebellous players.
Finally, Jeremy Lin continued to be "Lin"sane by helping lead the Knicks to a thrilling come-from-behind victory Wednesday night against the Cavaliers. Down 61-49 at the half, many were wondering what the heck had happened to the seemingly revitalized Knicks. Well, like Stella, New York certainly got its groove back in the 3rd and 4th quarters, outscoring Cleveland by 29. For his contribution, Lin had 19 points and 13 assists.
***********************************************************
So, I don't know if you lasted more than 8 seconds reading these tidbits, but I hope you enjoyed. See ya on the flip side!