Every year my stepdad and I fill out our NCAA Tournament brackets for a mano y mano competition. The stakes are high: if I win, I get five bucks; if he wins, he gets a roll of toilet paper.*
The bet used to be that I would put five dollars into the church giving box....then Steve found out I buy way better toilet paper than my mom.
Anyway, this year saw me throwing away my bracket on day two....after losing two Final Four teams (Mizzou and WVU). Needless to say, I've not really been paying that close of attention since then.
However, now we're down to the Final Four. As it turns out, my bracket, though long ago trashed, had some saving graces. One, I predicted correctly that
Louisville was a dangerous sleeper pick.
Two, and perhaps more importantly, I still have my two championship teams in the running (Kentucky and Kansas).
But enough about me...let's get to what really matters: the teams who have come out victorious in their respective regions. And this year, there are no Cinderella mid-majors. It's a battle of the heavy weights, ya'll, and it's gonna be interesting.
EAST REGION- OHIO STATE
Ah,
the
Ohio State. Despite their number two and number one rankings in the 2010 and 2011 tournaments, respectively, the Buckeyes haven't been in a Final Four since they lost to Florida in the 2007 tourney. The Big 10 runner-up has one of the nation's best point guards in Austin Craft, a factor which is key in championship play. However, forward William Buford hasn't been stellar since the regular season ended, and his lack of productivity might be what keeps the Buckeyes out of the championship.
MID-WEST REGION- KANSAS
Head Coach Bill Self knows what it's like to be in this position. After all, his team won the whole enchilada just four years ago. Of course, this is the same Kansas who has underachieved in tournament play the last few years. Several number one seedings have fizzled into early round exits. The Jayhawks have a player of the year candidate in big man Thomas Robinson, but they'll need the rest of the team to step up if they expect to have a chance.
WEST REGION- LOUISVILLE
The Cards have been overachieving as of late, starting with a remarkable run to win the Big East Tournament. A major part of that success is the 'Ville's stifling defense. Come Saturday, Bluegrass State bragging rights will be on the line when the Cardinals take on in-state foes Kentucky. When you're going to-to-toe with a rival, anything is possible.
SOUTH REGION- KENTUCKY
The Wildcats are the only remaining number one seed in the tourney, making them the easy odds-on favorite to win. The Cats bring with them a 14 year championship drought that I'm sure head coach John Calipari wouldn't mind seeing go by the wayside. Kentucky has their own Player of the Year contender in Anthony Davis. With Davis and lottery pick Doron Lamb leading the way, it's hard to make an argument against UK.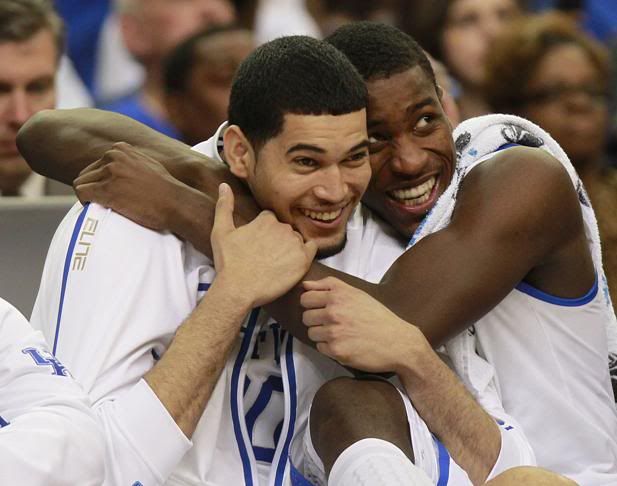 The faces of the 2012 Champs???

I think barring any major "cat"astrophes, Kentucky should be able to claim its eighth NCAA Basketball Title. But heck...what do I know? I have a busted bracket and owe a man a roll of toilet paper.
Image provided by
media.timesfreepress.