Happy Friday everyone! First off, let me issue a mea culpa for disappearing from your lives. I had a verrrryyy exciting weekend, and it turns out my poor system couldn't handle it. I think this may be a sign that I should get out more. Or, perhaps it's a sign that I shouldn't eat crab-stuffed salmon that's been sitting uncooked in a car ride from DC to WV. Either way, I'm back, I've missed you, and I hope you feel the same!
Part of the aforementioned weekend was a trip to the Verizon Center to watch the Washington Wizards take on the Cleveland Cavaliers. Since a friend of mine works for the Cavs organization, and my bud Julia had never been to a professional basketball game, I figured there was no time like the present to kill two birds with one stone. I now present to you a diary of our NBA excursion.
********************************************
Saturday, 4:30 p.m.:
Jules and I arrive at the Washington Plaza Hotel after a lovely afternoon of shopping in Georgetown. I soon discover that Jules cannot hold her sugar, as she has gone into some sort of system shock following a delicious frozen hot chocolate from Serendipity 3.
Frozen Hot Chocolate, you hurt so good.
Saturday, 5:00 p.m.:
I'm starting to get concerned, as Jules is still lying on her bed with a slightly glassy expression. I'm not sure if I'm going to have to throw water on her or what, but I'm beginning to panic that we're not going to make it to the game.
Saturday, 5:10 p.m.: "JULIA...WHAT IS WRONG WITH YOU??? GET UP! WE HAVE TO GO!!!" I'm pacing and calculating how fine of a line there is between concerned friend and raging bitch.
Saturday, 5:30 p.m-5:45 p.m..: We finally make it out of our hotel room and catch a cab to the Verizon Center, where we quickly walk in the direction of Jaleo, Jules's favorite Spanish Tapas restaurant.
Saturday, 5:48 p.m.: We see Jaleo boarded up, with a sign saying "Coming Soon! A Brand New Jaleo!"
Saturday, 5:49 p.m.: Julia makes us walk even closer to confirm that her favorite restaurant is indeed shut down, and we've just wasted ten minutes.
Saturday, 5:50 p.m.:
I suggest that we check out the other Spanish Tapas restaurant in the vicinity, La Tasca, which is located directly across from the arena.
Saturday, 6:00 p.m- 6:50 p.m..: We waltz inside, get seated immediately, and devour delicious sangria and tapas selections. This proves my Spanish restaurant is clearly superior to Julia's. The fact that hers is boarded up is irregardless.
Saturday, 6:55 p.m.: We join a queue of people waiting in line outside the Verizon Center. Why there is a line, I don't know. I'm concerned people don't realize they're going to a Wizards game.
Saturday, 7:05 p.m.: We finally make it in the building and to our seats just as the National Anthem is ending. Our seats happen to be located about ten rows behind the Cavalier bench, giving us an ample view of both the court and the who's who of the Washington elite (spoiler: it's not Jack Nicholson, Spike Lee, Leonardo DiCaprio, or anyone remotely fun).
Saturday, 7:15 p.m.:
Now settled, I begin to sort of pay attention to what's going on in the game. Entering the contest, the Wizards sported a whopping 8-28 record. Meanwhile, the Cavs stood at 13-22. I'm perplexed as to which juggernaut will come out victorious.
Saturday, 7:40 p.m.:
Not sure what exactly the motivation was, but the Wizards' Jordan Crawford and the Cavs' Antawn Jamison (formerly Mr. Wizard himself) seem to be having a personal scoring battle.
Saturday, 7:45 p.m.:
Jules and I have now fully noticed how one of the DC Capital Game Crew has an extraordinary amount of energy, making us feel simultaneously bad about ourselves and intrigued as to what sort of kool-aid he was drinking.
Saturday, 8:00 p.m.:
Half time. Cavs are leading 55-50. A city-wide dance squad comes out to perform, causing Julia to squeal like a bride on her wedding day. I'm now fairly sure she's still riding a bit of her sugar high.
Now is also a good time to air a grievance. Before coming to the game, I was entertained by a story where my cousin and her family had gone to a Wizards/Cavs game and sat in a similar spot. Turns out they ended up sitting next to Washington Caps superstar Alexander Ovechkin. The family next to me was lovely, but definitely no Russian millionaire hockey player. I cry foul.
Saturday, 8??? p.m.:
3rd period. Jordan Crawford and Antawn Jamison continue their scoring battle. John Wall and Kyrie Irving occasionally get into the act. I wonder if John Wall still does the John Wall.
Saturday, 8??? p.m.:
Early 4th quarter. The Wizards take 79-78 lead. Suddenly the game gets exciting.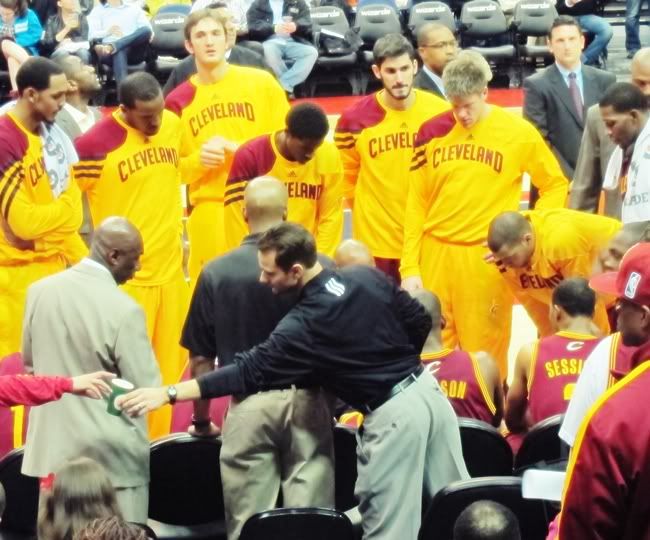 See that guy looking at me? Facebook asked if I wanted to tag him as my friend. I think that's called stalking.
Saturday, 8??? p.m.:
With 3 and a half minutes left, Washington extends its lead to 10. Cleveland's Kyrie Irving (and number one draft pick) goes into psycho robot mode, scoring eight points.
Saturday, 8??? p.m.:
6 seconds left. The crowd is now on their feet. John Wall misses the second of his free throws, keeping it a 3 point game.
Saturday, 8??? p.m.:
Cleveland's Anthony Parker misses the tie-ing 3 pointer at the buzzer. WIZARDS WIN! WIZARDS WIN??? WIZARDS WIN!
Fast forward a few days....
Wednesday, March 7th:
Wizards: 106, LA Lakers 101. I feel like my presence has blessed Washington, and they are now well on their way to the 2012 NBA Championship. If you care about the Wizards, then you are most welcome.
Images provided by the Sportsonista.