I realized the other day that I have been seriously neglecting my hockey posts lately. To be honest, I've not paid a whole lot of attention this season to the comings and goings of the NHL, especially since my beloved Caps are kinda struggling. So I was bound and determined to make today's post about something hockey-related.
But, really, who am I kidding? It's March Madness people!
On Sunday night, after a wild weekend of conference tournament finals, the field of 68 was announced. It seems like just yesterday I was
commenting on Midnight Madness
, and yet...here we are. With three of the top four seeds losing in their conference tournaments, I have a feeling that the term "madness" is going to be absolutely apt for the next few weeks.
In every bracket there are some obvious picks to make a deep run, but here are my thoughts on a few "sleepers" to watch for:
SOUTH REGION
The
VCU Rams
may have lost some key talent from last year's Final Four team, but the CAA champ is once again poised to make a run in the tournament. The Rams, led by phenom coach Shaka Smart, employ a "havoc defense" that forced Drexel to commit 17 turnovers in the CAA championship game. This could cause problems for unsuspecting teams.
VCU Rams
Speaking of unsuspecting, the
Colorado Buffaloes
may be on the verge of something special. Winning a conference title in just their first year of a weak PAC-12, the Buffs certainly don't have an easy draw in the tournament. If they make it past the Runnin' Rebels of UNLV, Colorado will face a highly ranked Baylor Bears squad. This team is on a roll, though, and momentum can be a very powerful thing.
Meanwhile, the
Notre Dame Fighting Irish
have the distinction of being the only team to hand Syracuse a loss in regular season play. While the Irish don't necessarily burn up the court with fire power, they tend to lull their
victims
opponents into a stupor with long possessions and smart shot selections. Look for junior forward Jack Cooley to be a big playmaker against Xavier, and Notre Dame's defense to be too much for Duke.
WEST REGION
I don't particularly see a whole lot of upsets happening in this part of the bracket, but I do think someone other than a 1 or 2 seed can take the region.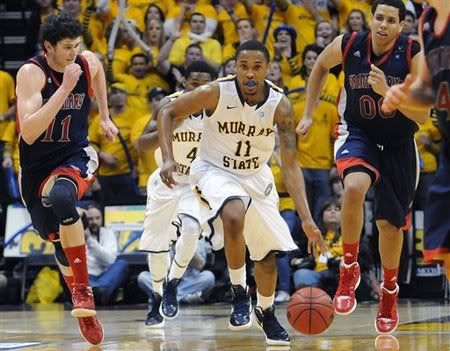 Murray St. Racers
 One of those teams may be the
Louisville Cardinals
, who defeated Cincinnati to win the Big East tournament championship. The Cards can be schizophrenic, but junior Peyton Siva and seniors Kyle Kuric, Chris Smith, and Jared Swopshire can be brilliant when they want. Also? Never count out a Rick Pitino-coached squad.
America shouldn't count out
Murray St.
, either, even though the talking heads have been poo-pooing them all season. At 30-1, the Racers actually bring the best record into the tournament and, unlike Syracuse and Kentucky, managed to win their conference tournament title.
MIDWEST REGION
Michigan Wolverines
The weakest of all the regions, in my opinion, the Mid-West might be a free-for-all. Although one of my late season favorites South Florida should be able to play its way into the field of 64, it's the Bulls' second round opponent
Michigan Wolverines
that could possibly shake things up. John Beilein's team has been playing consistently well all season, beating both conference foes Michigan State and Ohio State during regular season play (let's just forget about that 22 point loss to the Buckeyes this past weekend, mmmkay?). A Beilein squad is always dangerous come tourney time for teams who have little time to prepare against his complex offensive schemes and disrupting 1-3-1 defensive sets.
The
Wolf Pack
from
NC State
might also be a dangerous contender. The Pack lost a
close
game to North Carolina in the ACC semi-finals, and they seem to be peaking at a good time. Don't let the fact that they were the last team to hear their name called fool you....NC State, led by all-tournament selection C.J. Leslie, are a very possible sweet sixteen team.
EAST REGION
The east region has so many possibilities, that I'm excited just thinking about it. Let's start with the winner of the Vanderbilt/Harvard match-up. The
Commodores
just came off a THRILLING victory over number one overall seed Kentucky to win the SEC Championship, while the Ivy League champ
Crimson
have impressive victories over Boston College and ACC Tournament Champ Florida State.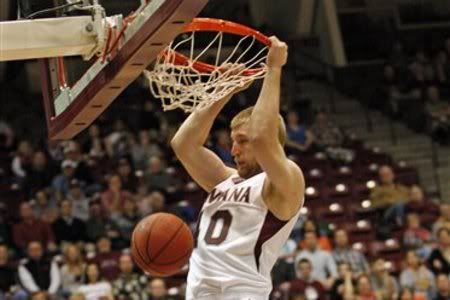 Montana Grizzlies
Even more exciting might be the possibility of the
Montana Grizzlies
. The Big Sky champs only lost one game in conference, and they haven't lost in nearly two months.
But perhaps the MOST exciting is the possibility of my beloved Mountaineers. I know I'm going to sound like a homer, but hear me out:
WVU,
while only a 10 seed, managed to pull a first/second round site of Pittsburgh, giving them virtually a home court. If the Mountaineers can get past a pesky Gonzaga squad, they should play up to a very, very good Ohio State team. After that, it might be smoother waters, with a possible rematch against conference foes Cincinnati and Syracuse. WVU beat the Bearcats and, if not for a very controversial call, might have beaten the Orange in regular season play.
So, March Mad Hatters....who do you think might have the ability to wear a Cinderella slipper? Do you think that Kentucky will win it all, or will some other school take the crown? Let me know!
Oh, and....I'll probably bring you something hockey-related next week. Probably.
Images provided by
mrice.fatcow
,
cdn3.sbnation
,
cdn0.sbnation
, and
cdn2.sbnation.