Welcome to NFL pre-season....where everything is made up, and the points don't matter.
Oh wait...that's Whose Line is It Anyway.
My bad.
I remember the years when I would REFUSE to do anything during a Redskins pre-season game, insisting that I must watch them as if their run to the playoffs depended on it.
Now? I saw the box score from Friday night's game in the paper (a 16-7 win over the Steelers, in case you were wondering) and my reaction was "Oh, well at least they won a game this season."
I kid, I kid.
But in all seriousness, pre-season means very little to anyone except for the third and fourth stringers trying to make the cut. Starters rarely play significant minutes until the third game or so. Offensive schemes are as basic as home-ec cooking lessons.
That being said, there are a few story lines to keep your eye on as this August continues to unfold:
1.
Cam Newton's debut as a NFL starting quarterback.
The controversial Heisman winner and top draft pick was a little shaky in the Panthers' win over the NY Giants, but that's to be expected. Now let's see if Newton can overcome the stigma that previous players in his position have garnered in recent years (namely JaMarcus Russell, Alex Smith, and Tim Couch).
2.
Plaxico Burress's return to the NFL.
The NFL loves a good comeback, especially from its resident jailbirds (hi Michael Vick *waves*). Plax, who will be donning the colors of the OTHER NY football team this season, is hoping his return will be just as much of a success as Vick's.
3.
The battle of big name free agents
. According to
recent reports
, Chad Ochocinco and Albert Haynesworth are probably not going to both be on the Patriots' roster come September. Anyone want to guess as to which one is most likely to be cut?
4.
The Detroit Lions
. After being the paragon of consistency the last five to ten years (that is, annual basement dwellers), the Lions had a semi-decent year in 2010. Matthew Stafford is hoping to keep off of the "number one qb picks that suck" list. Ndamukong Suh (who I still think got robbed for a Heisman) is going to be back bigger and better than ever on the defensive side. It's a little early to call, but I'm going to go out on a limb here and say that Detroit might just have themselves a playoff caliber team this year.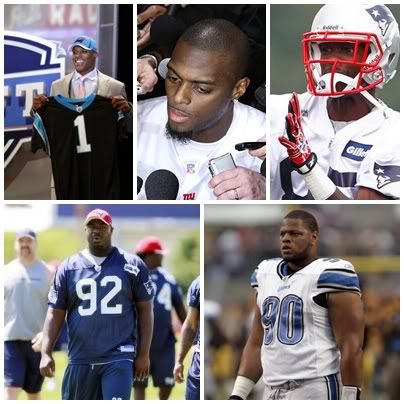 The Faces of the 2011 NFL Pre-Season
So....I guess there are a FEW interesting things to keep an eye out for. But me? I'll just be happy to see a kick-off come Sept 8, when the Saints take on defending Super Bowl Champs Green Bay Packers. 'Cause let's be real....the fact that there's a season to look forward to watching is the only preseason storyline that matters.
***********************************************************************
So NFL fans, have you been watching any of this weekend's preseason games? Are you just excited to be able to WATCH NFL football after all the lockout drama? Hit me up and let me know!
Images provided by
weallscheme
,
fabiolatalkstv
,
marchpr
,
blacksportsonline
, and
helmet2helmet
.