This is my third Kentucky Derby preview post, and in that time span I've learned a very valuable lesson: previewing a horse racing field is about as relevant as the points on "Who's Line is it Anyway?". Horses do what horses are going to do....that is to say, usually not what you think they'll do. Plus, there's the weather to consider, the unpredictability of the break from the starting gate, and yes,
the late scratches
.
Damn you late scratches!
Regardless, my whole universe would unalign if I failed to talk about my picks to win the Roses, so let's just pretend everything will go according to planned and get on with it, shall we?
***********************************************************************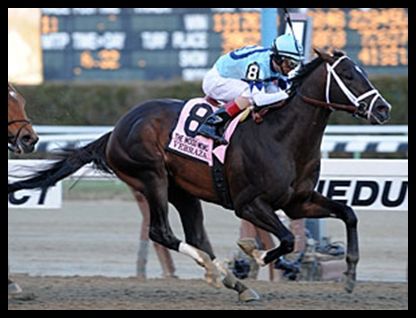 Verrazano
If odds meant anything in horse racing (besides betting, obvs), then trainer Todd Pletcher would have this race in the bag. Pletcher is saddling 25% of the field, including the favorite (and undefeated) colt
Verrazano
, and two other strong contenders in
Revolutionary
and
Overanalyze
. Despite this, Pletcher has a 1-31 record in the Derby. Most times, in fact, his horses under perform to the point of finishing at the bottom.
Revolutionary
But this is a new year, right? Even the Red Sox broke that streak eventually. While Verrazano has been trouncing the field with ease, my money would be on stablemate and Louisiana Derby winner Revolutionary. The colt has rallied as of late from a disappointing start, and he has a secret weapon that Verrazano doesn't: three time Derby winner Calvin Borel as a jockey.
Then there's
Orb
, who has won four straight for trainer "Shug" McGaughey, including an impressive win in the Florida Derby. The colt has been trained specifically for this distance, which is always a plus, and he dazzled the crowds at Churchill Downs on Monday during his workout.
Orb
Don't forget about Doug O'Neill's horse
Goldencents
. O'Neill found success twice last season in Derby and Preakness winner
I'll Have Another
. Winner of the Santa Anita Derby, Goldencents could be the one to watch with a good post draw and clean break.
I'd also watch out for
Normandy Invasion
, who finished second to Verrazano in the Wood Memorial. "Invasion" is the first horse to race in the Derby for owner Rick Porter since his filly Eight Belles finished second to Big Brown in 2008. After
the tragedy with Eight Belles
, Porter stated that he didn't want to race another horse in the Derby unless he was sure he had a contender.
Normandy Invasion
Finally, trainer Tom Amoss's horse
Mylute
could be the dark...err..horse. Though only 2-9 in his career, the colt will be ridden by fan favorite jockey Rosie Napravnik. If he can find that killer instinct, he might have a shot.
Mylute and Rosie Napravnik
Who will you be rooting for on Saturday? And more importantly, do you have your hat ready? Let me know!
Images provided by bloodhorse, drf, nbcbayarea, drf, kentuckyderby, and drf.