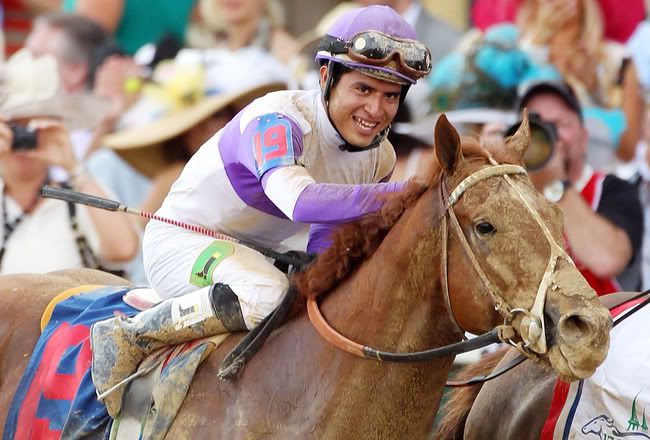 I'll Have Another....didn't.
Guys, I have a confession: I think I jinxed the Belmont.
I know, I suck.
Here's how it went down....
****************************************************
May/June 2004
I had just finished up performing in the show Grease at a local theater. A horse by the name of Smarty Jones was taking the country by storm. After a remarkable win in the Kentucky Derby, Smarty Jones ran away from the field in a Preakness that wasn't even close. I sat at the theater and watched the race, mesmerized by the ability of this amazing thoroughbred.
Three weeks later, I headed up to upstate NY to see my cousin Chris get married to his fiancee Julie. The date of the wedding- June 5th- happened to coincide with the Belmont, the last stage of the Triple Crown.
NOOOOOOOOOOOOOOOOOOO screamed my inner monologue. I'm going to miss this race???? What if Smarty Jones wins? So, as a compromise, my grandparents popped in a tape (ahh, the good ol days of VHS) and recorded it for me.
By the time we got home from the wedding, everyone knew the outcome but me. I had sworn all to a vow of silence, as I was determined to see the race play out for itself. Appeasing me, the family sat down and respectfully watched what they already knew....
....that Smarty Jones had lost a heartbreaker at the wire. Even re-watching it now, it pains me to see him let victory slip through his hooves. And so, another year passed by without a Triple Crown winner.
Eight years later...May/June 2012
In his book
11/22/63
, Stephen King talks about how the past harmonizes with itself. And up until Friday morning, I believed this to be true. Why, you ask? Because it seemed like my past was about to go all `NSYNC on my present.
For the first time since 2004, I had decided to do a musical theater production. After catching the Kentucky Derby on tv, I tuned in to the Preakness in the parking lot of the Apollo before my Saturday night performacne. In what was a nail biter, I'll Have Another pulled away for his second victory and became the
first horse since 2008's Big Brown to have a shot at the Triple Crown title
.
Ok, you might be saying right about now. So what?
Well, in even MORE of a coincidence, this past weekend I once again headed to upstate New York to see my cousin Sara (the aforementioned Chris's younger sister) get married. On the day of the Belmont.
If you're not following me, I'll recap: musical production, Preakness at the theater, Triple Crown hopeful, upstate New York, and family wedding.
Freaky, right?
So yeah...I was definitely feeling the harmonization. I began to share my story with everyone: my friends, my parents, random people on the street...
And then Friday happened.
Before leaving work at lunch time to drive to New York, I quickly checked my facebook. To my horror, one of my friends had posted a link to the news announcement that I'll Have Another had scratched for Saturday's race.
WHATTTTTTTTTTTTTTTTTTTTTTTTTTT????!?!?!?!??!
"How could this be???"
shouted my inner monologue.
"Doesn't this horse know about the harmonization????"
Just like that, the streak came to an abrupt and undramatic end. No second chance for history to produce the Triple Crown winner that had been denied to Smarty Jones eight years prior. Was this my fault? Did my recognization and consequential sharing of the repeating strands of time somehow alter what was meant to be?
If it did, I apologize. To I'll Have Another. To jockey Mario Gutierrez. To owner J. Paul Reddam and trainer Doug O'Neill. To the bettors. To racing fans. To my family, who was looking forward to sneaking out of the wedding to watch the race on a smuggled iPad.
But...the good news is that everyone in that family branch is now married, and I have no immediate plans to return to the theater. And if, by some chance, the stars are aligning again, I solemnly swear to keep my mouth shut.
Image provided by bleacherreport.