Disclaimer: Do not expect this to be nearly as funny as the Weekend Update on SNL. Or maybe expect it to be more funny. Either one will work, but just to be safe, let's go with option a.
So, my co-worker Kristin at
What She Said
has been doing a Friday Tapas feature for the last few months. Basically, it's just snippets and recaps from the week that don't require much thought or effort.
(And yes, I realize that I've been not putting much thought or effort into a lot of posts lately, but I'm a little lazy. Don't judge me).
Anyhoo, I'm not planning on stealing this idea or making it a regular occurrence, but for this Friday I thought I'd give it a whirl. How it differs from
the post I did two weeks ago
, I don't know exactly. It just does, mmkay?
******************************************
Yesterday,
NHL great Nicklas Lidstrom retired from the Detroit Red Wings
after 20 seasons of pro play. Lidstrom finished his career with seven Norris Trophies, four Stanley Cups, and one Conn Smythe, begging the obvious question: What the Hell was Nicklas doing with his time these past 20 years?
Anyone who hasn't been living under a rock knows the massive rivalry between Big 10 (11? 12? 13?) foes Michigan and Ohio State. This rivalry was taken to a new level
when Michigan recruit Logan Tuley-Tillman posted a picture of an aflame Ohio State recruiting letter
to his twitter account. Despite backlash, Tuley-Tillman was unapologetic, stating that it was more of a personal catharsis than a deliberate slight. When asked about the numerous obscene threats he's received, the young recruit simply said, "God Bless Them". Okay, then.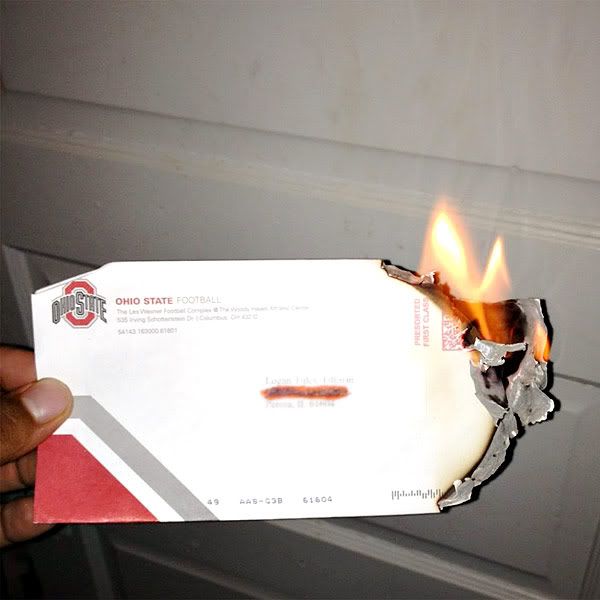 I'd hate to see what he does to junk mail.
Last week on HBO's
Real Sports with Bryant Gumbel
, American track star and Olympic hopeful "Lolo" Jones announced that she is still a virgin at the ripe old age of 29. The admission caused a massive shock wave through the media, spawning articles in
People
, the
LA Times
, and
The Washington Post.
Who here besides me thinks that this girl is going to set a record for the amount of people and different languages she will surely be propositioned with upon arrival in London?
Finally, the New Orleans Hornets won the top draft pick in the NBA lottery on Wednesday evening, despite the poor Charlotte Bobcats having a dismal 7 and gazillion record this season. The Hornets are rumored to be aiming toward UK's Anthony Davis, much to the delight of the young NCAA champion and 2011-12 Player of the Year. Davis will surely be able to buy a fancy car/house/clothes with his new found millions, but, as one of my friends on facebook put it, he should be looking most forward to this:

I mean, good god, man! Go to the threading kiosk at the mall. It will be the best $10 you've ever spent, I swears.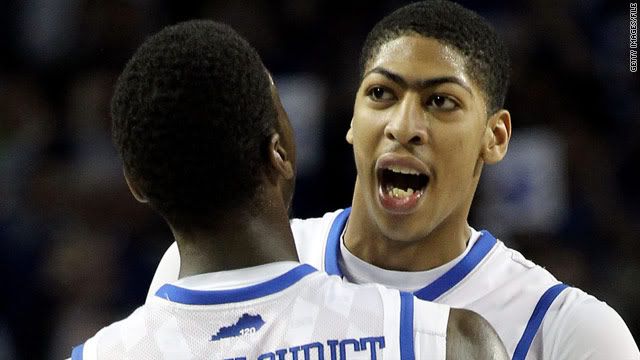 What the......no.
**********************************************************
Around the net......
Over at
Grantland
, Bill Simmons breaks down his
take on the San Antonio Spurs
, who have yet to lose a playoff game this season. That? Just as unnatural as the face-eating man down in Florida, amiright?
Brooks of
Sports By Brooks
reminds us all that, just in case we've forgotten,
Craig James is still an asshole.
And for you non-sports fans out there reading my blog....
Congrats to Lacey of
A Lacey Perspective
, who got
engaged this week to her long-time beau
. Leave it to a fashion blogger to make an engagement look uber stylish.
Meanwhile, Kendall at
This Is Not That Blog
warns us all of that which is definitely NOT stylish....the
impending doom of butt sweat and lava-hot summers
.
So, until next week ya'll........................
Images provided by espn (c/o twitter) and newschannel12live.