Happy Father's Day everyone! It's sort of fitting that I write a sports blog on this occasion, because nothing goes more hand in hand than fathers and sports. Even my dad and I have had our moments, though that one failed attempt to teach me how to field balls might not exactly count.
But some fathers, and their children, have taken the connection to a whole 'nother level. These families were blessed with some freaky super power gene that propelled them into successful careers playing sports professionally. Ergo, I thought I'd pay tribute to those fathers and sons now.
***************************************************
Archie/Peyton/Eli Manning
Ahh, the Mannings. You knew I had to include these three considering how many times I've written about Peyton and Eli (see
here
and
here
and
here
). But if it wasn't for Archie, who played 13 seasons in the NFL with the Saints, Vikings and Oilers, the Manning boys probably wouldn't be what they are today.
Ken Griffey and Ken Griffey, Jr.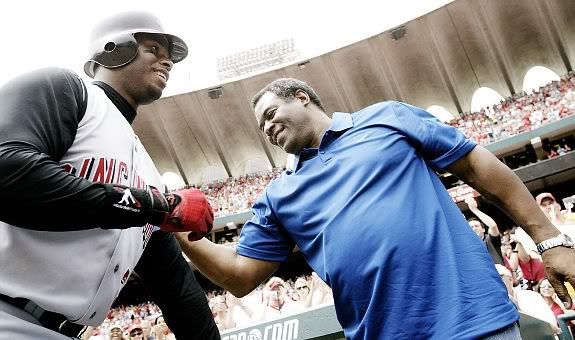 The pro sports gene seems to be especially strong in the world of baseball, and the Griffeys are full proof of that. Ken Sr. played with the Reds during the "Big Red Machine" heyday, while Griffey, Jr. is considered to be one of the best home run hitters and defensive players in MLB history. The Griffeys even manged to overlap careers- playing their first game together with the Seattle Mariners in 1990 and hit back-to-back home runs.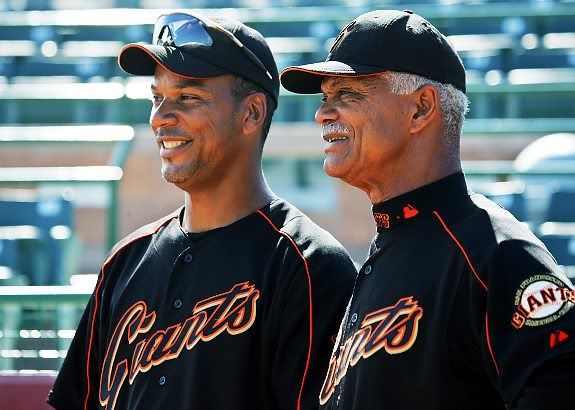 The Alous...pretty much the baseball equivalent of a royal family. Felipe, along with brothers Matty and Jesus, became the first all-brother outfield for the San Francisco Giants in 1963. Then came Moises, who followed in his father's footsteps as an outfielder. Moises had the distinction of being managed by his father with both the Montreal Expos and the Giants. With the exception of Jesus, all Alous have been named to the All-Star game at least twice.
Dale Earnhardt and Dale Earnhardt, Jr.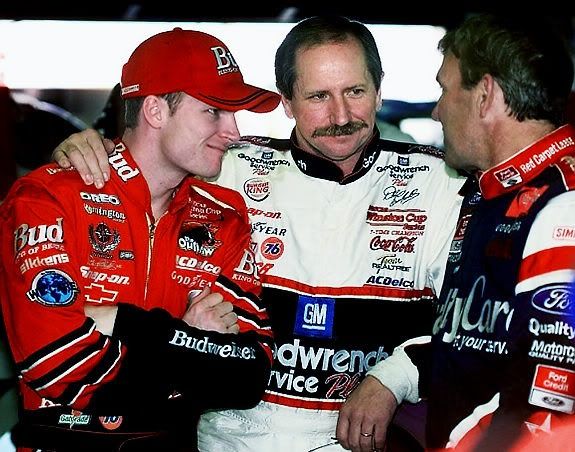 When you
have a roller coaster named after you
, as the late Dale Earnhardt does, you know you were something special. That's probably why son Jr., who is a superstar in his own right, is still one of NASCAR's most popular drivers.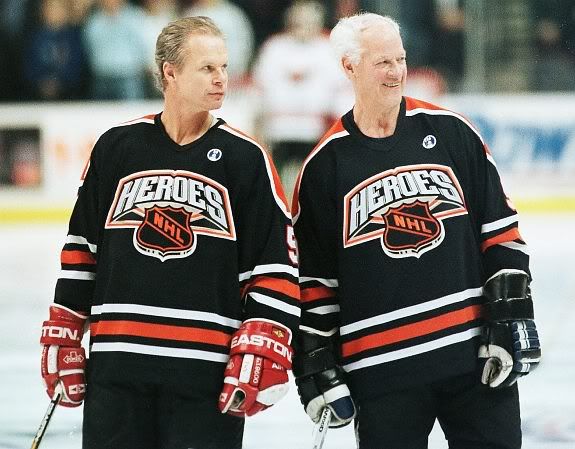 If your nickname is "Mr. Hockey", and you have a son who is also pretty awesome, you can't be left off this list. Gordie Howe, who played in the NHL for five different decades and won 4 Stanley Cups and 6 Hart Trophies, is certainly one of the sports most prolific and outstanding players of all time. Son Mark wasn't a slouch either, playing for both a Philadelphia Flyers and Detroit Red Wings team that went to a Stanley Cup Finals. Besides Bobby and Brett Hull, the Howes are the only other father/son combo to have their jerseys retired by the NHL.
Confession time? I ADORE Cecil and Prince Fielder. I mean, look at the picture...don't they look like an awesome pair of guys to hang around with? It's like if Shaq and son played baseball (wait...did/do they?). Despite the last name, both Fielders are some of the most notable power hitters in MLB history and the only father-son duo to hit for 50+ home runs in a single season.
Who here that follows basketball doesn't know who Bill Walton is??? That's what I thought. Bill, who played for John Wooden's powerhouse UCLA teams in the 70s, won three straight player of the year titles and two national championships. Meanwhile, in the NBA, he earned another MVP title and won 2 NBA championships. Son Luke, now a forward for the Cleveland Cavs, proves that the apple didn't fall far from the tree, having already won 2 NBA titles of his own with the LA Lakers in 2009-10.
********************************
So, who are some of your fav father/son combos that I left out? The Ripkens? The Hulls? The Bonds? Let me know!