They say variety is the spice of life.
Ok, so I'm not quite sure who "they" are, but today I'm mixing it up with what would typically be a Friday Fun post. So...fingers crossed about that whole variety/spice thing.
****************************************************
This past weekend, my girls Leah and Jenny came to visit from Morgantown and take in the Nationals/Braves game in Washington, DC on Saturday.
All three of us are huge baseball fans, but Leah is a die-hard Braves girl. More specifically, she's a die-hard Chipper Jones girl. As you know, this is Chipper's last year, and when his farewell tour was making its way through the nation's capital, she asked if we maybe would like to go see a game. And maybe see Dierks Bentley afterward as part of the summer concert series.
Uh...ok!
The best laid plans, however, tend to go awry. And on Friday, the shit...so to speak.. hit the fan.
First, we found out that Chipper, who is currently on the DL, wasn't making the trip to DC. Then, Dierks Bentley had to pull out of his concert appearance due to "family issues". Luckily, Big and Rich apparently had nothing else to do, so they stepped in at the last moment. But still...just wasn't going to be the same.
Anyway, the show must go on. I had never been to Nationals Park before, so I wasn't really sure what to expect. Being a Os and Pirates fan, I'm used to a gorgeous ball park setting (cause let's face it, Camden Yards and PNC Park are top notch). Here's what I learned from our adventure:
1) Nats Park is beautiful. Small, but beautiful. The minor league ball park feeling provides a really intimate setting to watch major league ball.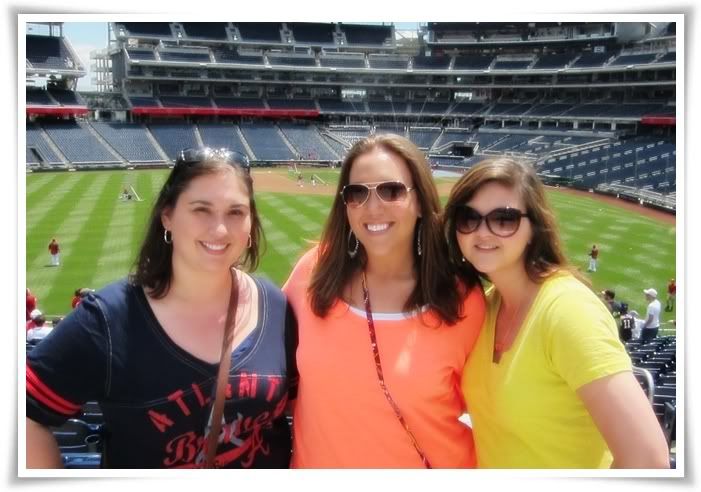 2) The staff is incredibly friendly. I don't know if it's because the Nats are relatively young in terms of ball clubs, and they're still trying to find a niche, but everyone there...from the ticket takers to the concession stand workers...were absolutely outstanding.
3) If you like creepy, deformed looking forefathers, this is right up your alley. The Nationals are famous for their racing "presidents", and statues of the Mt. Rushmore face bearers are placed strategically throughout the stadium.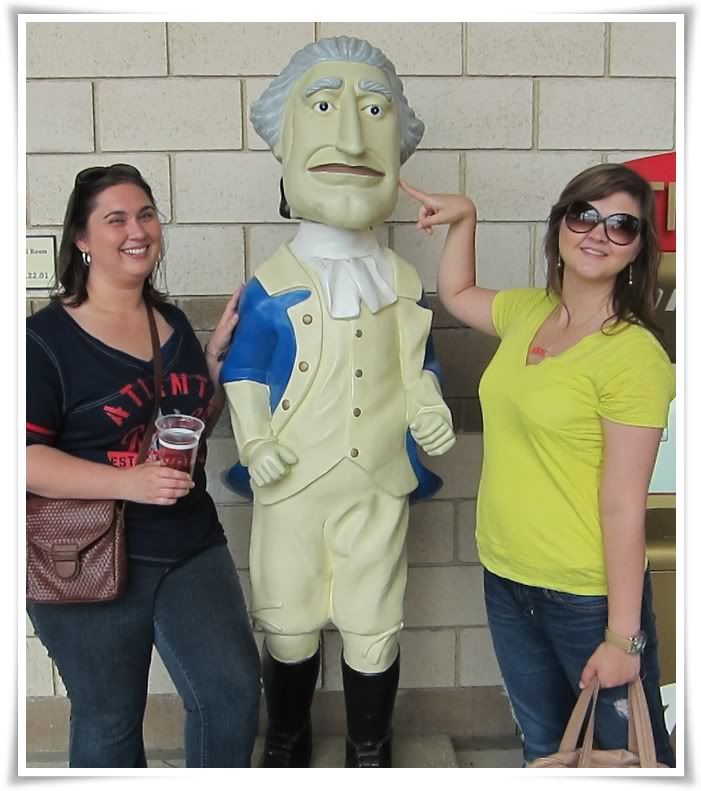 Doesn't GW look jaunty? Especially with my finger in his face?
4) Every ball park NEEDS an outdoor lounge. We determined this as we climbed to the second level and discovered a grassy knoll complete with comfy couches, chairs, and dj. As we enjoyed our lunches, Leah put it best, "I mean, I've got my beer, my hot dog, and a dj. What else do you need?" Indeed.
5) This might be the Nationals year to shine. With superstar young talent like pitcher Stephen Strasburg and 2011 first round draft pick Bryce Harper, the nation's team has given its fans something to cheer about.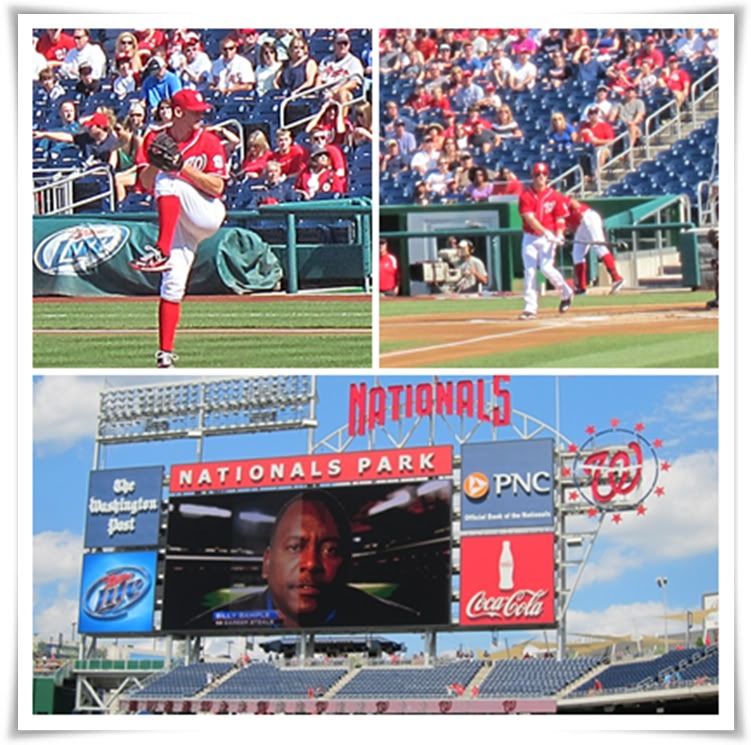 6) Regardless of what the ball park looks like, or who is playing, nothing beats going to a game with your besties. Especially when
you don't have pee emergencies and aren't getting yelled at by strangers
.
And for the record, Big and Rich was a more than acceptable replacement for Dierks Bentley. Especially since I got to high five Big Kenny.
S

ee how excited he was to high five me? He's assuming the victory arm pose.
Images provided by the Sports-o-nista.