Now that the "championship" period is over, the sports world becomes fairly silent until football starts up again. Unless you like baseball, which I do. Just not enough to keep me riveted to my tv screen.
So....thank GOD we're in an Olympic year.
Come August, we'll be saying cheerio to the U.S. of A. and hullo to merry old England as the Summer Olympics kick off. But for now, we can get into the mood by watching the U.S. trials.
The trials are a good way to introduce us to potential new superstars, like freestyler Allison Schmitt or backstroker Missy Franklin. Schmitt won the 400 free last night over Chloe Sutton, while Franklin will take on veteran Natalie Coughlin in tonight's 100m backstroke final.
Allison Schmitt and Missy Franklin look to make their mark on the
swim world in London.
Meanwhile, Brendan Hansen took one major step forward in his much-publicized comeback by winning the 100m breast stroke. Hansen had pretty much checked out of the sport four years ago before competing in Beijing. Now? He is relishing going up against old rivals, like current Olympic gold medalist and world record holder Kosuke Kitajima.
Perhaps the most intriguing match-up, however, is the battle between Michael Phelps and Ryan Lochte.
Phelps' reign over teammate Lochte ended at last year's World Championships
, and Lochte continued his rise to the top Monday night- winning the 400m IM. The pair will go head-to-head once more this evening, competing in the 200m free final. Ryan Lochte has already beaten Phelps in this event, as well.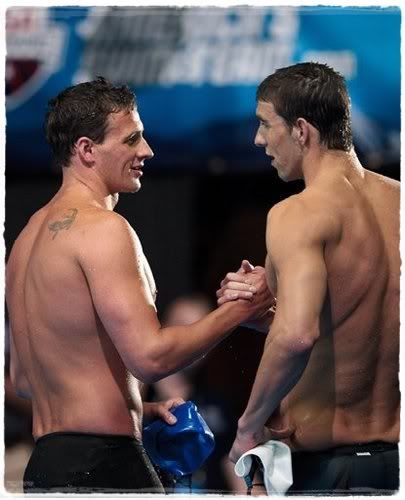 I'm sorry, do we even care who wins as long as we get to see this a lot?
Are you all getting excited for the Olympics? Do you think Michael Phelps will be able to come close to his record setting eight gold medals in China, or will another US swimmer steal the spotlight? Let me know!
Images provided by theswimpictures, biography, dy.snimg, and superiortelegram.