Before the Super Bowl began Sunday, it was said that Patriot QB Tom Brady was pissed off.
He was sick of hearing about the Giants. Sick of hearing about Eli Manning. Sick of hearing about New England's loss to
those
Giants and
that
Manning in the 2008 Super Bowl.
And really, who could blame him? This is the man who is used to being the star. Used to being married to a supermodel. Used to taking his team to the Big Game (5 out of 10 years). Used to winning that Big Game (3 out of 5 times).
Yet, the deck was stacked against him. Tom and Co. were marching into a stadium where not only is the name "Manning" synonymous with "best guy ever", but the name "Brady" isn't exactly revered.
And after the good part of the first half, with a grounding-turned-safety and too many men on the field resulting in 9 New York points, it wasn't looking good.
But then Brady did what Brady does: led his team back to a solid, if not commanding, 17-9 lead well into the 3rd quarter.
**********************************************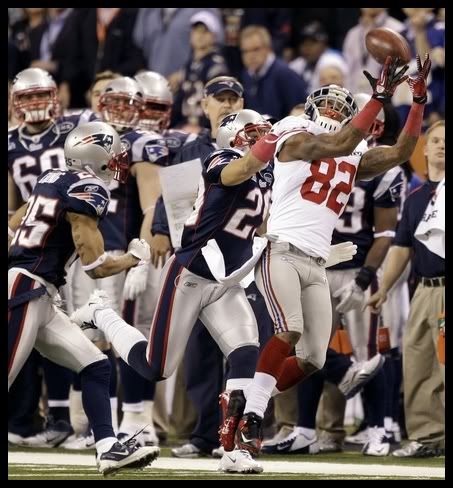 Mario Manningham makes an outstanding catch to
keep the Giants's winning drive alive
Although the Giants chipped diligently away, field goal by field goal, at the 8 point deficit, it just didn't look like things were going to end the way of the 2008 Super Bowl.
Then Eli Manning did what
he
does best, at least this 2011 season: mounted his seventh fourth quarter winning drive.
And what a strange drive it was.
First, Receiver Mario Manningham made a spectacular 40 yard grab to keep the Giants's hopes alive by somehow staying in bounds and maintaining possession with 2 defenders on his back.
Then, Ahmad Bradshaw scored with with less than a minute left to give New York the lead. Except, he wasn't supposed to.
As a calculated move to save time, the Patriots D opened up and let Bradshaw run in the endzone untouched. Realizing the strategy, Bradshaw tried to sit down at the one yard line but fell backwards for the unwanted score.
Yep, you read that right....the UNWANTED score.
Oops.
After a failed two point conversion try, Tom Brady and Patriots had a chance to drive the length of the field. For a veteran of Brady's caliber, a minute is like eternity. New England's victory once again seemed very possible, if not probable.
However, fate once again smiled on the New York Giants. Their late season momentum-gaining
pass rush defense
forced the Patriots into a last second Hail Mary try.
Yes, it was close. But, as they say, close only counts in horseshoes and hand grenades. And though Tom Brady played lights out, it was once again a Manning who was victorious in Indianapolis.
********************************************************
So football fans, what did you think of the game? Glad of another exciting finish? Sad the season is over for another year? Still hungover from Sunday partying? Let me know!
Image provided by annarbor.