Two weeks ago, Jeremy Lin was struggling to make a living doing what he loves: playing basketball professionally.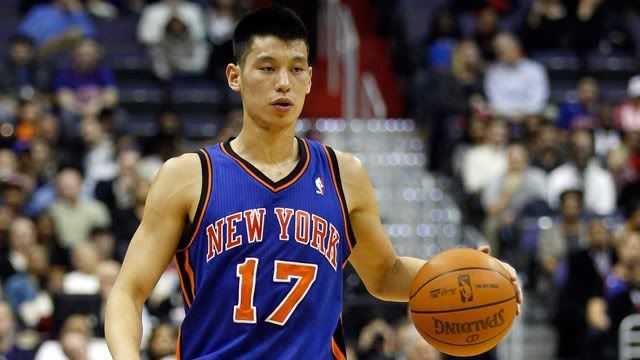 Now? He's playing to standing ovations and breaking scoring records of players such as Shaquille O'Neal and Michael Jordan.
I almost didn't write about the spunky young New York Knick because the "linsanity" surrounding him has become ridiculous. But then I thought "You know what? This kid is amazing. He DESERVES to have people talking about him." So I jumped on the bandwagon.
Honestly, it's hard to believe that it's taken 23 years for this kid to win the media's attention. The Taiwanese-American from Palo Alto, CA finished his senior year as captain of the California Division II championship winning squad and was named both the player of the year and a first-team All-American. But because he wasn't recruited by in-state schools Stanford, Cal, and UCLA, Lin had to go cross-country to Ivy League magnate Harvard University....a school that doesn't offer athletic scholarships.
I know, boo hoo, right?
Of course, while a Harvard diploma can lead to many things, a NBA draft pick isn't usually one of them. The last ivy-leaguer to be drafted was Jerome Allen from Pennsylvania University in 1995. The last Ivy-Leaguer to actually PLAY in the NBA was Yale's Chris Dudley in 2003. And yeah...the last time a Harvard player played in the bigs? 1954.
After being picked up and discarded by several teams, Lin seemed once again dead in the water and ready to be dismissed by New York. But then fate stepped in, as fate often does. Absences by marquee players Carmelo Anthony and Amare Stoudemire left a gaping hole in the starting line-up.
Enter Jeremy Lin.
On February 3rd, Jeremy played 7 minutes and scored 2 points. Since then? He's scored totals of 25, 28, 23, 38, and 20 and is averaging 39 minutes a game. And lest you think that these came against cupcake teams, let it be known that Lin's 38 came against a Kobe Bryant-led LA Laker team. For the record, Kobe only scored 34.
In other words, whoa.
Yeah, it's pretty safe to say that Jeremy Lin has provided a much needed spark to a league that was very much in jeopardy of losing its season. Whether he can keep on living up to his near mythological hype is yet to be seen, but for now....we're all living in a Lin-ter wonderland.
Image provided by thegospelcoalition.