When it comes to excelling in playoffs, momentum is key.
Teams who are "hot" and who have "peaked at the right time" tend to ride that momentum far into post-season play, if not to the very end.
Case in point: The 2011 World Series Champs St. Louis Cardinals.
As the NFL heads into conference championship games, one thing is perfectly clear: the NY Giants are riding the hot tamale train.
(Cue Mary Murphy scream here).
Sure, this was the team that lost to the Redskins TWICE this season. But they also won 3 out of their 4 final games, including two wins over division rival Dallas Cowboys.
One reason for their recent success is the stellar play by the Gmen's defense. During Monday's Missouri/Texas A&M basketball match-up, Coach Bob Knight remarked as much.
"You know how much I like defense," Knight confided to Brent Musburger, choosing the Giants to beat the 49ers next week.
Hey, if Bob Knight says you're playing good D, you must be playing good D.
In any case, a healthy Justin Tuck, Osi Umenyiora, and Jason Pierre-Paul holding the line are certainly nothing to sneeze at.
And while the best offense is a good defense, a good offense is helpful, as well. QB Eli Manning hasn't been too shabby, helping his team dismantle the Atlanta Falcons in a decisive 24-2 rout. Three of those scores were TD passes.
Not the look of love in #20's eyes.....
Sure, you might be saying, the Atlanta Falcons are one thing. But on Sunday, the Giants again throttled their opponent, and this time it was season standout Green Bay Packers. You know, that team that ALMOST went undefeated?
Once again, the Giant's defense was stellar. And once again, their offense found its rhythm. And by rhythm, I mean that WR Hakeem Nicks went wild to the tune of 7 receptions for 165 yards and two touchdowns, one of which was a 37 yard hail mary catch in the endzone to finish out the first half.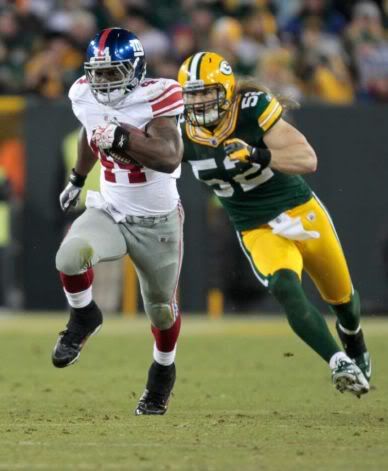 Familiar?
Against the 49ers, New York will be facing their toughest defensive opponent. But Eli and Co. have something that San Francisco doesn't.....experience. Riding momentum can only take you so far, but the Giants have recently been here before.
And I, for one, have a feeling we might be seeing a rematch of the 2007 Super Bowl against the Patriots come the first Sunday in February.
Weigh in NFL fans....do you think the Giants are going to take their hot streak straight to Indianapolis? Let me know!