Knock, Knock.
Who's there?
Orange.
Orange who?
Orange you glad I wrote yet ANOTHER post on a WVU bowl game??????
(And yes, I had that joke planned in my head long before I saw the gimmick on the Championship T-Shirts)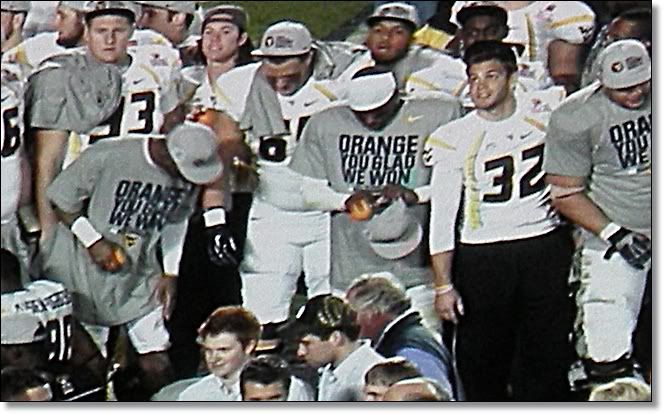 Thanks for copying me Orange Bowl committee.
Yes, friends. This is indeed one more bowl-related post. I was
slightly tempted
not tempted whatsoever
to forgo my self-indulged topic and pick something else.
Because, let's face it, it was pretty damn awesome.
At least for Mountaineer fans.
For Clemson Tiger fans, however, the 2012 Orange Bowl probably seems like the punchline to a really bad joke.
But, lest I get ahead of myself, let me start at the beginning.
**************************************************************
We departed D.C. January 2nd for sunny, warm Miami. Except, Miami wasn't warm. Not by a long shot.
With evil flashbacks of chilly Orlando and the 2011 Champs Bowl swimming in my head, I groused, "How much farther south do we gots to go to get some HEAT?"
I mean, seriously, we've just about run out of real estate.
I don't get it.
Needless to say, my packed bikini and shorts never saw the outside of the suitcase. And, by the time game day rolled around, I had broken down and bought a WVU lined jacket at the fan center on Miami Beach.
Clad in sweatshirt, coat, shearling boots, and hat, I trudged into beautiful Sun Life Stadium. I may have been cold, but I was ready. After all, we're from the mountains. Maybe cold was a good thing.
The game began like any other WVU game this season. Clemson moved the ball down the field and scored the first touchdown. In the past, this might have been cause for worry, but this Mountaineer team wasn't exactly known for their fast starts.
True to form, QB Geno Smith led the Mounties right back down the field to tie it up. And for a quarter, back and forth it went.
Early in the second, with the score 21-17, the Tigers were at the goal line and looked poised to once again take the lead. As running back Andre Ellington pushed his way into the endzone, a collective groan arose from the WVU side.
But....suddenly DB Darwin Cook was sprinting in the other direction. As our disappointment turned into disbelief, the referees signaled touchdown. For WVU.
And then, the floodgates opened.
To the tune of 35 points, WVU proceeded to score 4 more times in the half. As the teams headed to the locker rooms, our eyes stared blankly at the scoreboard.
"I dunno, but it's fun to watch them," was my reply.
To be honest, the details in the second half get a little fuzzy after the Mountaineers scored their 70th point. But, when all was said and done, the Mounties had a LOT to celebrate. Among the records broken that night were: most points scored in the second quarter (35), a tie for most receptions caught for a touchdown by a receiver by Tavon Austin (4), a tie for most points responsible (42) and most TDs responsible (7) by QB Geno Smith, and the most points ever scored in a bowl game (70), breaking the record set just six days earlier by the Baylor Bears.
Then came celebration time.
Receiver Stedman Bailey proudly held up a white board that read: "83% Wrong AGAIN", alluding to the ESPN poll which showed the majority of the country had picked Clemson to win, much like everyone had selected Oklahoma over the Mountaineers in the 2008 Fiesta Bowl.
As the glass bowl trophy full of oranges was presented to university and team officials, WVU AD Oliver Luck impishly grabbed one of the citrus fruits and gave it a toss over his head. In a few seconds, oranges were flying all over Sun Life. No fan, player, coach, or bowl official was safe from the hurling missiles and squirting juices.
In other words, it was perfect.
And that's plenty to keep us warm.
***************************************************
Quick shout out to this lovely young lady, who stayed until the bitter end with her team. As a sports fan, I applaud her dedication, and as a fashionista, I salute her most adorable tiger headgear.
I promise.
Images provided by the Sportsonista.