What a crazy last few weeks it's been in the sporting world! It seems like we've all been living in Pee-Wee's Playhouse, and the secret word of the day is SCANDAL (AHHHHHHHHHHHHHHHH).
Before I go any further, did you know Laurence Fishburne was on Pee-Wee's Playhouse? And Phil Hartman? I think the not-so-secret word of the day should be "Whoa".
As I was saying (before I rudely interrupted myself), it's been one crazy breaking news story after another recently: USC officially stripped of their 2004 National Championship, Denver Post columnist and Around the Horn regular Woody Paige being accused of plagarism, Terrelle Pryor allegedly making major bank on his autograph, and the one not so dear, but very near to my heart....the WVU coaching debacle.
But the story that has really fascinated me in a "I'm not exactly sure what's going on but it seems really awesomely juicy" is the Richard Childress/Kyle Busch saga. NASCAR is already full of high octane speed and hot tempers, and Kyle Busch seems to be the king of both.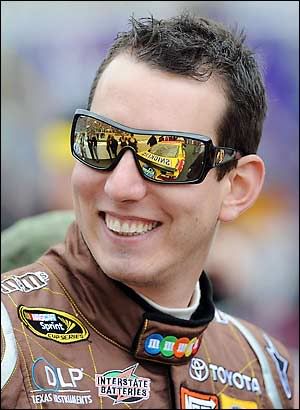 "I can do "punk" all by myself"
 Busch, already on probation for an incident that occurred in early May, was given a (literal) beat down by racing owner Childress after he tapped one of Childress's trucks (Joey Coulter's to be exact) during a cool down lap after a World Truck Series event two weeks ago. Busch was cleared of wrong doing in the altercation, while Childress was fined $150,000. The imbalance of punishment has gone unnoticed by few and highly debated by many.
Kyle Busch certainly won't be winning any congeniality awards in the near future. As one sports columnist put it, the driver is
"like a two year old without adult supervision."
But even with his bad reputation, he probably didn't deserve Childress's wrath. Maybe?
Or maybe not. Allegedly, Childress warned Busch after the Harvick incident in May that if he destroyed any more of their vehicles, he would hunt him down.
And hey, look at that! He did! I like a man who you can count on, ya know?
"It's not personal. It's business."
The more I read of the story, the more I seriously want Richard Childress as my body guard. Or my Godfather...making people offers they can't refuse (you think Kyle found a hacked up carborator in his bed?). Although Childress took responsibility for his actions, he didn't apologize for protecting his empire. Sure it's an empire of cars and trucks, but they are super EXPENSIVE cars and trucks, mmmkay?
Godfather Childress thinks that perhaps
something good will be learned by both parties from the incident.
I hope so too:
I hope that Childress will learn how to take care of business a little more discreetly, and that Kyle will learn to stop playing King of the Road if he doesn't want to keep getting beat up by a 65 year old.
Cause that's just embarrassing.
Weigh in ya'll! Was Childress wrong to avenge his vehicles' honor? Is Busch just an immature brat that needs to be put in time out? Let me know!
Images provided by (top to bottom)
inquisitr
and
cmsimg.freep
.