I had no idea what I was going to write for today's blog. This was a little alarming considering it's my Friday Fun post, and I needed something FUN (for Friday). Then, on Tuesday, my friend Craig asked if I could blog about this ridiculous phenomenon called
Noodling
, which is basically sticking your hand into murky waters and hoping a catfish will try to swallow it. Or, as I like to call it, the sport of being really stupid.
Ummm, no.
Now, I am not an outdoorsy girl (I prefer the "outside", not the "outdoors"). I don't like to hike, bike, climb, repel, or basically do anything that involves me, bugs, and nature.
Except for one thing: Fishing.
I love to fish. I can stand out on a dock for hours on end. I can bait my own hook (and trust me, catching live shrimp in a bucket and putting them on a hook is no easy feat). It's a trait that's been passed to me from both sides of the family. I'm from a family of fisherpeople, if you will.
And like the people who "noodle", I've done some dumb stuff while doing it.
My first strong memory of fishing is going to this creek near Warrenton, VA with my grandmother and my cousin for a weekend of what I can only assume was bonding time. Clearly, this was in my stupid, younger days (I think I was no more than 8 maybe). As the cuz and I were wading through the creek with our poles, I spotted the lure my grandmother had gotten stuck in a tree over a year before and decided we needed to retrieve it.
"I'm going to go get it," I proclaimed.
"Um, ok." said cuz.
Yep, she was a big help.
So, with that affirmation, I swam across a creek filled with god-knows-what, climbed the tree and pulled the lure out.
I'm still really proud of this feat. And I'd never, ever, EVER in a million years do it again.
Well, maybe for money.
Or free food.
I also fondly recall trying to catch a shark while fishing on the Tampa Bay (where same said grandmother owns a house). On this occasion, a sand shark happened to be swimming close to shore. I can't tell you how many hours we wasted trying to hook that thing. What we thought we'd do with a sand shark once we caught it, I have no idea. The mud suckers and catfish were problem enough.
Nowadays, my fishing activity is limited primarily to my aunt and uncle's dock at their Florida home. Although not quite as exciting as say, climbing trees in creeks or chasing after sharks, it's still my favorite thing to do when visiting them.
I think I love it so much because of the valuable life lessons it's taught me.....
like patience and perserverence......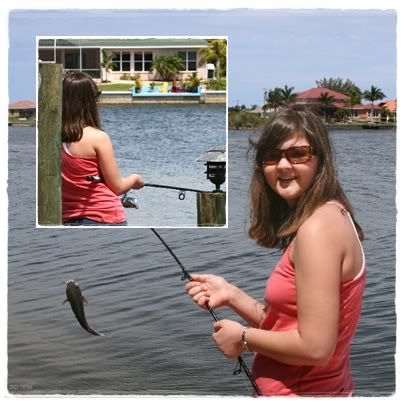 The only damn fish I caught all...day....long. Also, let's not mention my hair. That's what happens when I'm in a humid environment.
and appreciating family togetherness.....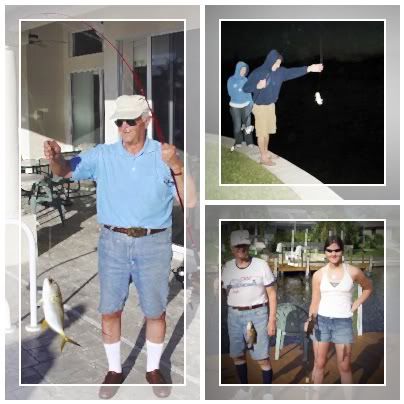 nothing says family like holding up fish
I look forward to the day that I have a little girl or boy to whom I can pass along the many joys of fishing. It really is a blessing to be bonded with family over such a fun and rewarding activity.
But if they try to noodle a fish, I'm disowning them.
Any other good fishing stories out there? Done anything remotely stupid while doing it? Let me know!
Noodling image provided by
dumbweek.files.
*************************************************************
In other news, the 142nd running of the Belmont Stakes is tomorrow. Not only is this the last leg of the Triple Crown, but it's also the most grueling at a distance of 1 and 1/2 miles. Derby winner Animal Kingdom is already the 2-1 odds favorite, while Preakness winner Shackleford is sitting at 9-2 odds. Derby runner-up Nehro, who skipped the Preakness, is the second odds-on favorite at 4-1.
Although I'm not dedicating a whole post to this, I feel it's my obligation to pick the winner. I'm going to (once again) give the edge to Animal Kingdom. He almost caught Shackleford at the wire in the Preakness, which leads me to believe that a) Animal Kingdom does better at longer distances and b) Shackleford does better at shorter distances.
I've called the last two wrong, though, so don't take my word for anything. In any case, the race should be amazing as the top seven finishers in the Derby are all racing this weekend.
See ya at the finish line!